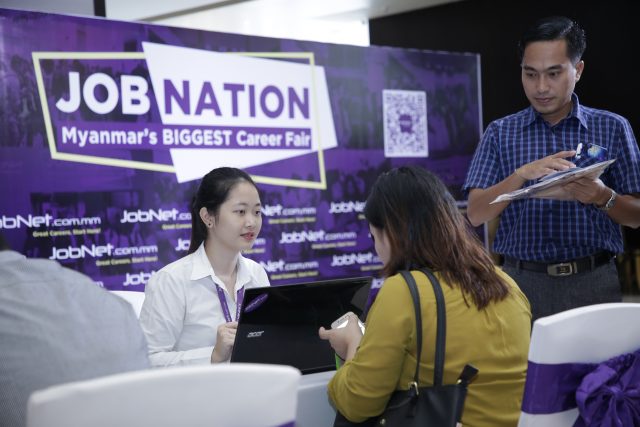 JobNet.com.mm has successfully introduced the concept of a digitalized career fair to over 60+ companies and 10,000+ job seekers in Yangon at JobNATION 2019, a one-day event held at Novotel Yangon Max on September 21, 2019. This groundbreaking event started welcoming potential job seekers from 9:00AM and finished at 5:00PM.
During this first digitally driven career fair event held by JobNet.com.mm, not only Job Seekers but also the 60+ employers experienced Myanmar's first Digital ID (QR Code) Scanning technology for better career advancement and a more efficient recruitment process. Job Seekers now can directly apply for the next step in their career with the Digital CV ID through the JobNet.com.mm platform. Just by quickly scanning employer's company Digital ID, potential applicants will be directed the companies' profiles with only one click, as well as be able to automatically share their Digital CV ID for the desired job positions at their fingertips. "I am blown away by the positive response the Job Seeker Profile is receiving," said Matt De Luca, Managing Director of JobNet.
"We had tested and developed the product for some time now in the house, and I could not be more proud about how well received the new tools have become. Our pre-show engagement has been our best yet in terms of engagement for website visitors, and I'm so happy to see today all of the Digital ID information being exchanged, and careers progressing to higher heights" Matt concluded.
Along with utilizing the Digital CV ID Technology at today's JobNATION 2019, professionals from respective specialized sectors such as technology, service provision, sales, human resources management, and capacity building had also added value to the event by the active participations at today's seminars, workshops, and panel discussions. A full day's agenda ensured that both active and passive professionals were able to gain something from the JobNATION event, taking away both the job offers in front of them and skills and wisdom to succeed in future endeavors.
By holding JobNATION bi-annually, www.JobNet.com.mm aims to help connect job seekers with employers and guiding future leaders to be able to find out more about professional skills they need to advance further.