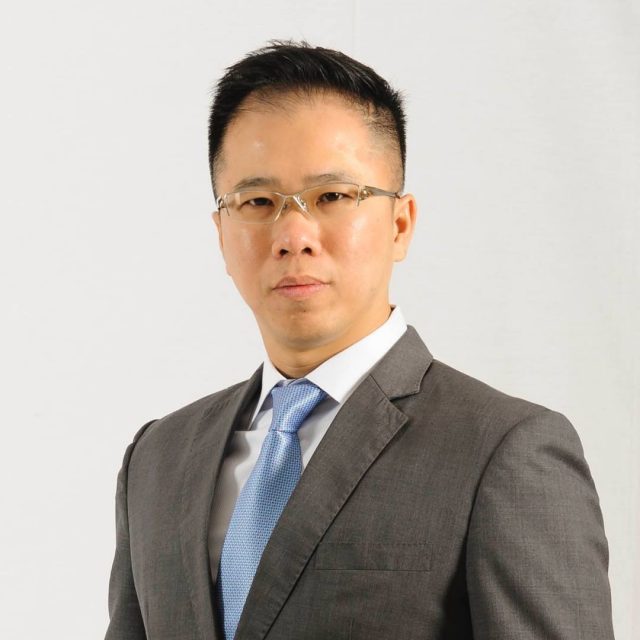 Interview with Christopher Loh
Managing Director and CEO of uab bank
Please introduce yourself and uab bank for our readers.
I'm Christopher Loh, Managing Director and CEO of uab bank, a leading bank in Myanmar. Established in 2010, we are now serving our customers from a growing network of over 78 branches in 47 townships across Myanmar. uab provides a wide range of financial services including consumer banking, premier banking, SME banking, corporate banking, trade finance and treasury services. Through our subsidiary uab securities, we also provide brokerage services, corporate and financial advisory, investment banking and capital market activities.
Recognised for our successful transformation and leadership in the Myanmar banking sector amidst the regulatory changes and governance requirements, uab bank was named 'Myanmar's Best Bank' by Euromoney, 'Mid-sized Domestic Retail Bank of the Year' by Asian Banking & Finance, and was ranked No. 1 in Corporate Governance Disclosure by TiME Pwint Thit Sa Report published by the Myanmar Centre for Responsible Business.
How did you end up at a current position?
It was sometime in early 2017 when I met my current Chairman, Ne Aung. After a couple of conversations, he convinced me that he wanted to steer uab bank to greater heights and needed someone he believes could help uab bank navigates the increasingly challenging regulatory and economic situation in Myanmar and transform the bank into one of the best banks. Our conversations soon progressed into discussion on the corporate governance aspects and he demonstrated his vision and willingness to adopt good corporate governance and establish uab bank as a separate and independent bank group. It is both this fervour on corporate governance and his charisma that eventually convinced me to take up the role. Besides, having worked and lived in over 10 different countries, the prospects of coming to Myanmar and doing something that is extremely challenging got my adrenaline pumping.
What makes uab bank different from the other private banks?
While all private banks are similar to a certain degree, what makes uab bank stand out is the transformation journey we initiated in 2017 when the Central Bank of Myanmar (CBM) introduced the new regulations and guidelines. We firmly believed that as a bank, we must be fully responsible and accountable for the trust of our depositors and we have to safeguard this trust and the deposits of our customers. We established uab bank as a separate group with its own Board of Directors and a senior independent director as required by the CBM. We also segregate the duties of the Board and the responsibilities of the management team. In uab, we have this clear segregation where management is fully vested and accountable, while the Board provides guidance to strategy, oversight and governance. We strongly believed in stewardship, that we need to safeguard this bank and make it better for the generations that come after. We emphasise on strong corporate governance and want to be fully transparent. Therefore, we have made full disclosure of our bank's operations as well as the audited financial statements so that the public is able to see and assess how uab bank is using the money we have gotten from our customers (depositors).
Our efforts for this transformation have earned us the accolades of being "Myanmar's Best Bank" by Euromoney and also the most transparent bank in Myanmar by the Myanmar Centre for Responsible Business in the recent Pwint Thit Sa Report.
What are uab bank's primary areas of focus?
uab bank is a universal bank, with an investment banking subsidiary uab securities. We provide the full range of banking and advisory services to consumers, SMEs and corporates. As part of our transformation, we are prioritising our focus on the consumer and SME market to better support the economic development of the country. We believe that the growth and development of the SME sector is critical to developing local businesses, generating income for a wider range of people across the country.
How do you ensure that uab depositor's money is not lent out to related parties of the bank?
I believe the best way of ensuring the safety of depositors' money is through greater transparency and disclosure. That is why we have put in a lot of effort to publish our annual report and full set of audited financial statements. These are available for the public to download from our website. We want our depositors and the public to know how their hard-earned savings are being used and demonstrate that we are profitable.
We are the custodian of the money entrusted to us by our customers. Therefore, banks must be profitable as a large part of our funds are from depositors. If a bank is not profitable, it is the depositors that eventually suffers.
We adhere very much to good corporate governance and compliance with CBM regulations. In uab bank, we have 2 levels of credit committee – management credit committee (MCC) and board credit committee (BCC). All credit proposals must be approved by MCC before those above a certain limit are routed to the BCC for affirmation. Management has taken a strong stance of no related party lending and this has been fully supported by the Board. Our Chairman has also given clear instructions that no related party lending is allowed.
What is your view on more foreign banks operating in Myanmar?
It is not about the number of foreign banks but the quality and commitment of the foreign banks operating in Myanmar that is important. More than that, it is about ensuring that the domestic banking sector is strong and resilient, having adequate capital, sustainable and profitable growth and commitment to good corporate governance to protect the depositors' money.
I believe at this juncture, what is needed is an orderly development of the financial sector. The CBM has initiated this in July 2017 with the introduction of the new regulations. More needs to be done to help the local banks get stronger. We need a clear financial sector development blueprint and roadmap. We need strong local banks to maintain control of the banking sector and support economic growth. Foreign banks may come and go, but the local banks are here to stay. All parties must work together to make the Myanmar banking sector stronger.
What's your current NPL percentage, if any, and how are you managing them?
Our gross non-performing loans (NPL) ratio is currently below 5%. Majority of these NPLs are secured by good quality collateral and this NPL portfolio has over 3 times collateral coverage (that is the total value of the collaterals are more than 3 times the total value of the NPLs). We are mindful that many businesses are facing challenging time and as a bank, we try our best to discuss various options with our customers.
What are your key revenue drivers?
Our revenue is still largely derived from interest income from loans. In a market like Myanmar while the capital markets is in its nascent stage, interest income will dominate the banking revenue pool.
How has the recent bank run affected uab bank?
We have not seen any unusual or large withdrawal. In fact, our deposits have continued to grow. We are very thankful to our customers, who believe in uab bank, and we will continue to uphold their trust and do our best to safeguard their hard-earned savings.
What are the bank's future plans?
We have rebranded and re-purposed uab bank in the past 6 months. We've replaced our old name "United Amara Bank" with simply "uab bank" and have registered this name officially with DICA and CBM. Our new identity and logo represent our desire to connect deeply within and with our customers, our strong passion to create a better future for uabians and the community we are in and the courage to lead change in an increasingly complex economic and regulatory environment. Our Purpose is to lead the way towards a better Myanmar, humanising banking, connecting people, creating opportunities and changing lives.
We will continue to build on this new brand, focus on diversifying more into the consumer and SME segment and on making the uab bank brand the most desired and respected bank in Myanmar.
What are the key challenges the Bank is facing now?
Our biggest challenge is human capital. Banking is not new. Whatever that the Myanmar banking sector is going through currently has been experienced in many other countries. What we need are banking talent with the right competencies combined with experience in a developing economy like Myanmar. We cannot simply "copy and paste" practices from the developed countries. We need to have a strong understanding of the local market and focus on what would work for Myanmar.
We need to change our culture and mindset. Many employees view their work as only a mean to earn a salary. They put in 8 hours of work a day and asked what the company can do for them.
We need employees that have an "ownership" mentality and thinking what they can do for the company. We call that "stewardship" and to me, that is the most important value for uab bank. Whatever we are building is not just for a moment of glory, but something that will last generations.
How does the bank ensure proper corporate governance at the board level and adequate transparency for general public?
We have been at the forefront of good corporate governance practices. Two years ago, when we embarked on this transformation journey, the first thing we did was to establish the proper governance and control between the Board and the management team. Executive powers are vested onto the CEO and the executive team. The Board becomes non-executive and plays the role of supervision, oversight and governance. Our Chairman has been very supportive in this transition and it is his vision and belief of making uab bank a very trusted and desired bank that make it possible. I am very grateful for such leadership and his support these past 2 years.
At the Board level, aside from most of them having attended the Thai Institute of Directors training in Bangkok (before the Myanmar Institute of Directors "MIOD" has been established), Chairman has also mandated for all Board of Directors to attend the Directors Certification Program (DCP) organised by MIOD in partnership with the Singapore Management University (SMU). This is in addition to the ongoing training provided to the Board about bank management, financial management, laws and regulations and directors responsibilities.
In terms of transparency and disclosure, we also took the lead to publish a full annual report for the transitional 6-months financial year ending on September 30, 2018. This annual report conforms to a high standard of corporate governance and disclosure requirements under the ASEAN Corporate Governance scorecard. Our effort in pursuing this high standard of transparency and disclosure has been recognised in the recent Pwint Thit Sa Report by Myanmar Centre for Responsible Business where uab bank was ranked 1st amongst all the banks for transparency reporting and also 1st in Corporate Governance disclosure amongst all the companies covered in the assessment. This was our first attempt and there are still room for improvements. We are currently working on the annual report for September 2019 and look forward to making further improvements for better transparency and disclosure to the public. Our annual report including our full audited financial statements are made available online via our website www.uab.com.mm for anyone to download.
If you could suggest one change in government policy, what would it be?
Government is not an easy job and I'm least qualified to comment on government policy. However, I believe everyone has a role to play in the economic progress and transition. This would not be easy. There would be challenges and pains as Myanmar grows and develops. Each of us need to contribute in our own capacity to support the economic growth and transition.