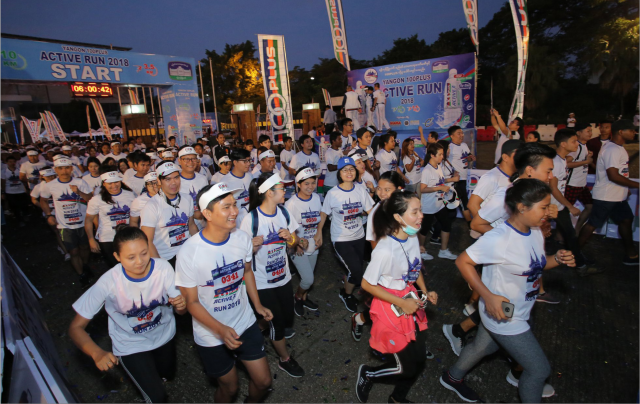 It increases your endurance, helps make your heart stronger, improves circulation, and strengthens your muscles. You also feel less stressed and more upbeat. You may be guessing that I am talking about a rigorous fitness regime and a strictly-controlled diet. But all these benefits are coming from running a marathon. To have completed 26.2 miles is one of the largest physical challenges you can set for yourself. Most marathoners equate the day they finished their first marathon with other special day, like their wedding or the birth of their child(ren). It doesn't matter if you finish last. But you are still a marathoner and are part of an elite club of people who have challenged their minds and bodies and have emerged victorious. Advertisement of sports drink Gatorade says, "There is a moment in every race; a moment where you can either quit, fold, or say to yourself, 'I can do this'."
The origin of the marathon begins around 490BC at the time when the Persians were invading Greece. The most popular legend tells of a Greek messenger Pheidippides who was tasked with the mission of informing the peoples of Athens that the Greeks have defeated the Persians at the Battle of Marathon. Pheidippides ran the approximately 25 miles to announce the defeat of the Persians to some anxious Athenians. The Olympic Games actually inspired the first Boston Marathon, which culminated on 19th April, 1897. After 1896, the next few Olympic marathons varied in distance with the idea that as long as all runners ran the same course, there was no need to keep the distance exactly the same. For the 1908 London Olympics, the course was laid out from Windsor Castle to White City stadium, about 26 miles. However, to locate the finish line in front of the royal family's viewing box, an extra 385 yards was added inside the stadium. Hence, the marathon tradition of yelling "God save the Queen" in the last mile.
Marathon races in Myanmar are extremely rare and the most notable among all is the Yoma Yangon International Marathon (YYIM). YYIM had been organizing annual marathons. Myanmar's first international marathon was held in Yangon in 2013 by YYIM with the intention of showcasing country's budding sporting credentials, one of the signs of dramatic changes sweeping the former junta-ruled country. Runners from the U.S., Austria, Philippines, Kenya, Ethiopia and Sweden, had participated.
In 2019 more than 9000 local and international runners took part across four categories – 42km Full Marathon, 21km Half Marathon, 10km Challenge and 3km Fun Run. The first of the four race categories, the 42km Full Marathon, was flagged off at Thuwunna National Indoor Stadium. In the Men's Full Marathon, Peter Ket of Kenya finished first with a time of 2 hours 30 minutes 13 seconds (02:30:13). Ket took home a prize of $2700 (K4.1 million). In January 2020 also marathon is held with the theme 'Run for Children' as fund raising efforts to improve the welfare of children and providing education for the less privileged. YYIM 2020 fundraising efforts will be donated to five different charity groups in the Yangon Division. Bagan Temple Marathon will also take place in November in ancient temple city of Bagan. Three competitive distances are available at this event: full marathon, half marathon and a 10km run. Ksolodnikova from Russia who participated in Bagan Temple Marathon in 2019 says, "Bagan is a great place to see at least once in a lifetime. Bagan's beauty and historical significance is unsurpassed. Sacred pagodas and more than 2,000 beautiful temples scattered across the plains of Bagan create a mystical, striking landscape. The marathon course took runners on a voyage of discovery into this alluring land". Another review by Fergie from Spain who had participated in 8 marathons says about 2019 Bagan Temple Marathon, "This tour and marathon was just amazing from start to finish. Professional guides, great hotels and restaurants: much better than I had imagined. Really good choices of sight-seeing tours and the timings to suit our needs. The marathon itself was just awesome."