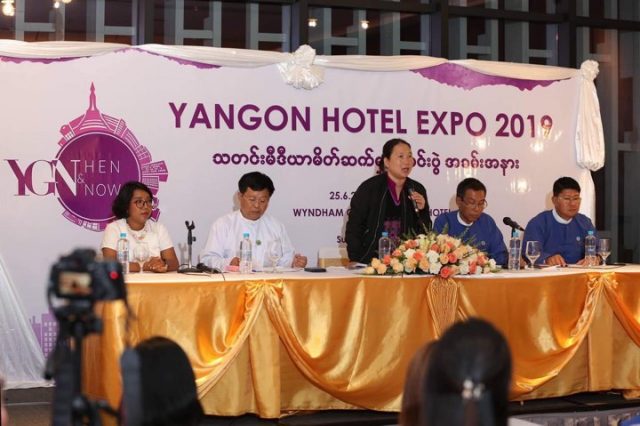 Myanmar Hoteliers Association (Yangon Zone) announced that Yangon Hotel Expo 2019 would be hosted in order to develop more business opportunities in hotel and tourism sectors in Myanmar with the support from Ministry of Hotels and Tourism and the Yangon Region Government. The Press Launch was held at Wyndham Grand Yangon Hotel on June 25, 2019. Yangon Hotel Expo 2019 will highlight the past elements of Yangon in the present perspectives under the theme YANGON THEN & NOW. The Expo was organised by Fill In Co., Ltd.
Chairman of Myanmar Hoteliers Associations, Tin Myint, said "Yangon Expo 2019 will be a one stop place to promote and exchange business among hoteliers, investors, operators in Yangon. We are going to invite the international businesses to join through embassies and chambers as well as promoting the event."
Member of Yangon Regional Government, Karen Minister of Ethnic Affairs, Naw Pan Thinzar Myo said, "Our regional government is committed to develop the Yangon as Smart city to meet international standards. The remarkable changes can be noticed. We plan Yangon to be a better place for live, work and play urban city and more than a commercial city. With the better public transportation system, the public places such as park, modern cinema halls, and shopping centers have been built. Yangon will be the commercial hub as well as the better living place to experience for locals and travelers."
Director of Directorate of Hotels and Tourism, Naing Win, said "Our ministry working together with the business to promote the image of Myanmar Tourism Industry. All the local and international businesses from the industry could meet at the expo as well as they can experience the Yangon."
Yangon Hotel Expo 2019 is a three day event at Myanmar Expo starting from October 18, which will be a platform for both local and international companies in the hotel and tourism industries. Ministry of Hotels and Tourism and related associations will be participated. The event will highlight curated city tours and others as follows: Taste of Yangon and Hidden Treasure, Forum, Walking Foodie Tour, Getting in touch with Yangon Standards and Cultural Performance.