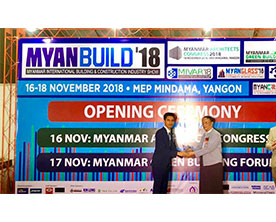 International Building and Construction Industry Show opened on November 16 at the Myanmar Event Park (MEP) attended by representatives of key industry associations. The event lasted three days, until November 18. The three-day exhibition brought together over 200 exhibiting companies grouped in pavilions representing various countries including China, India, Italy, Malaysia, Singapore, and Thailand, which showcased their latest products for building and construction.
Supported by the Myanmar Engineering Society, MyanBuild 2018 is a businessto-business trade show designed for key buyers and sellers of the construction sector looking for the latest solutions, ideas and innovations and supplies. MyanBuild 2018 is happening in conjunction with Mivar 2018, International Ventilation and Air Conditioning Industry Show. These events are platforms for showcasing a wide variety of the latest products and solutions for the construction industry as well as air-conditioning refrigeration and HVAC technology.
Darren Siow, the show's director, said "With the majority of the participating exhibitors hailing from overseas, some of whom are visiting Myanmar for the first time, MyanBuild 2018 is truly an international expo. We hope that it will be the catalyst for generating lucrative business ventures and rewarding investment opportunities that will propel this country to new heights of economic prosperity". MyanBuild 2018 is organized by AMB Tarsus Events Group, a leading trade show organizer in Asia headquartered in Kuala Lumpur, Malaysia that is currently focused on developing the region's key emerging markets. Similar exhibitions in the company's portfolio include Cambuild(Cambodia), Laobuild(Laos), and Lankbuild(Sri Lanka).