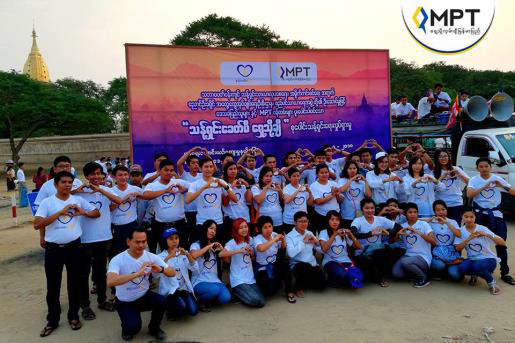 MPT, one of Myanmar leading telecommunications operators, has released a press statement on July 12 covering nationwide collective efforts towards its Corporate Social Responsibility (CSR) Programs and activities to step forward year after year. In conjunction with the development of digital infrastructure, projects are aimed at enriching the lives of the people. The sizeable part of its profit flows back to the community by way of its CSR programs that focus on three main CSR pillars: Education, Health and Business Incubation and many remarkable moments has been built together with the people and authorities.
It is presented that MPT led the following social activities which have on-going status in the press by involving local communities, NGO organizations and government body.
Nationwide Blood Donation Activities
MPT's Nationwide Blood Donation Drive is a recurring activity to raise public awareness to the importance of blood and to mobilize volunteers to donate clean blood for medical use. The donation drives happens at the National Blood Centre in Yangon, and are simultaneously replicated in 17 regional hospitals nationwide. To date, there are more than 3,000 people including MPT staff and local community donated their valuable blood at nationwide blood centers and hospitals.
Nationwide Tree Planting Activities
Under this "MPT Green Movement" initiative, there are over 12,000 trees has been planted by 8,000 people. The operator is encouraging local communities to participate in the public sphere and promoting activities focused on resolving social issues important for Myanmar society, as ecology and healthcare.
Nationwide Clean Campaign
MPT periodically organizes nationwide clean-up campaigns, named "Clean and Fresh to Move Forward" with MPT employees, families, friends and the members of the public. This large-scale effort aims to raise awareness on the importance of maintaining clean and hygienic communities and there are over 15,000 people participated during two years of 2017 and 2018.
MPT organized eighth time of Blood Donation program on July18, third time of its Nationwide Tree Planting Program during the raining season of July and August, and raising awareness about good littering practice among the general public, clean-up program is planned to organize in January 2020 as third time across massive regions of Myanmar.