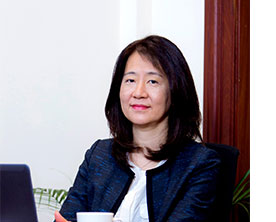 Name : Yasuko Yoshida
Position : Country Chair, Shell Myanmar
[paypal]
When did you first come to Myanmar and what were your impressions?
I have been working in Myanmar since July, 2015. My first impressions of Myanmar were; what a beautiful country with such nice people and huge potential! While it didn't take long for me to realize that the country has some challenges like heavy traffic in Yangon, poor road conditions, frequent power outages, floods during the rainy season, etc., at the same time I sensed people's passion and power to make a positive change, and that is really encouraging.
What is your impression of the situation today?
I see many positive changes which are helping to bring more benefits to the Myanmar people and to encourage foreign investment by companies such as Shell. But I also realize that this is the beginning of a long journey and it will take time to change the country, both the soft assets (such as capacity building) and the hard ones (such as infrastructure). Having lived in Myanmar for two years now, I am a big fan of this country and its people. I see so many people with great talent, potential and capacity and I truly believe Myanmar has a hopeful future.
What are the differences between working in Myanmar and elsewhere?
I have worked in Japan, Australia and Myanmar for Shell and in the United Kingdom (UK) prior to Shell. Each country has something to be proud of, and their own unique culture, while facing different agendas. In terms of people, I see similarities between Myanmar and Japan with regard to behaviours. Maybe because both are Asian countries. I try not to give labels to people or working behaviours on a national basis, each individual has his or her own background and uniqueness and I celebrate the differences and uniqueness of each country I have worked in!
What is the target market demographic for Shell in Myanmar?
What are some of the current projects your team is working on?
Shell Myanmar operates in various parts of the country. Shell holds equity interest in seven offshore blocks in Myanmar. The acreage offers an exciting frontier exploration opportunity to apply the advanced deep-water technical capabilities we have built up around the world over the past three decades. We are using leading (deep-water) exploration technologies including advanced tools for acquiring, processing and interpreting seismic and other geophysical data. After completing an Initial Environmental Evaluation (IEE), Shell and its partners started the 3D seismic acquisition programme in Q4 2015. We are currently analysing the data.
Also, together with Italian-Thai Development Public Company limited and LNG Plus International Company Limited, Shell is cooperating on the development of a proposed Liquefied Natural Gas (LNG) receiving and re-gasification terminal in the Dawei Special Economic Zone (DSEZ).
Recently, Shell Myanmar participated in the 'Road Safety Campaign'. Was this a one off or do you plan to offer your assistance to other public benefit programmes?
Together with the Myanmar Red Cross Society (MRC) and with support from the Global Road Safety Partnership (GRSP) and the International Federation of Red Cross and Red Crescent Societies (IFRC), Shell developed and initiated a road safety campaign to educate drivers and community members along the Yangon-Nay Pyi Taw Highway, a roadway notorious for its high crash rate. While many factors play a role in unsafe driving, speed is a common culprit. The campaign addresses speed and advocates for drivers to stay within the set speed limit. As one of Shell Myanmar's social investment initiatives, the campaign underpins the company's commitment to help make a positive difference in Myanmar.
In addition to addressing drivers, the Myanmar Red Cross Society is undertaking an outreach educational workshop program for villagers that live adjacent to the Yangon-Nay Pyi Taw Highway. Over three months, trainers will teach school children and adults about safe road use, as many drive motorbikes and are pedestrians along the high-speed roadway. More than 6,000 villagers will participate in the workshops across 11 villages.
The campaign was launched on March 29, 2017. We are currently exploring opportunities to expand the campaign in the future.
How does Shell contribute to the communities of Myanmar?
Investing in communities where we operate – in other words 'social investment' – is an important part of being a good neighbour. We invest in projects that aim to benefit local communities over the long term. Our social investment programme in Myanmar focuses on the following topics: Access to Energy At Shell, we are able to use our core business skills and technical resources to play an active role in improving communities' access to energy, particularly in countries where we operate – such as Myanmar. Together with our NGO partner Pact, we expand electricity access to rural and coastal communities in the dry zone and Tanintharyi region by building up community governance structures, consumer finance mechanisms and providing technical support. Community Skills & Enterprise development Shell has programmes in place to support and encourage the building of new businesses and generate local employment. In Myanmar, for example, together with our NGO partner Mercy Corps, we are implementing a market-driven agricultural development programme in Rakhine State that seeks to promote a private sector-led approach to food security. And, together with our partner Montrose, we are implementing a programme to improve the livelihoods of the rural population living in Manaung Township through increasing farmers' incomes with improved production practices, specifically in the coconut copra and groundnut value chains. To support value chain strengthening, the pilot also aims to improve irrigation practices and market linkages. Environment Protection & Water Resource Management In support of TU Delft in the Netherlands and the Government of Myanmar's efforts to establish an Integrated Water Resources Management Program (IWRM) to build government capacity in water management and flood control, Shell and TU Delft signed a 4-year agreement which commits both parties to the establishment of a Scholarship Trust. The PhD scholarship programme started in 2014 and supports two Myanmar students. Road Safety Shell staff and contractors drive around 1.1 billion kilometres each year to deliver products to our customers or to keep our operations running. That's equivalent to driving about 75 times around the world each day. We help keep our drivers safe through training programmes, by limiting their journeys, and by enforcing our global road safety standards. We also work with communities and global partners to improve road safety in the countries where we operate. In Myanmar, together with the Myanmar Red Cross Society (MRCS), Shell launched a road safety campaign in March 2017 to educate drivers and community members along the Yangon-Nay Pyi Taw Highway, a roadway notorious for its high crash rate. In addition to addressing drivers, the Myanmar Red Cross Society is undertaking an outreach educational workshop program for villagers that live adjacent to the Yangon-Nay Pyi Taw Highway.
From a business perspective, what do you feel are the biggest challenges facing you and your team in next 1-3 years?
For us, it is about how we can progress our projects in a safe and competitive manner considering the lower oil price environment. And at the same time, we need to explore opportunities that will contribute to future growth for our company.
If you could give a suggestion to improve the energy sector in Myanmar, what would it be?
Shell recognises that the key challenge facing Myanmar today is the provision of competitive and sustainable power generation capacity which can help increase electrification of the country in the fastest possible time frame. Although blessed with gas resources with potentially significant yet-to-find volumes, large-scale development of these reserves will require a 6-10 year lead time, and therefore LNG import can provide Myanmar with a feasible short to medium-term option for meeting gas and power requirements. Shell believes new power capacity based on imported LNG is the way ahead for Myanmar.
[/paypal]