Tanes Kumar is the Chief Commercial Officer (CCO) of Myanmar Airways International (MAI) and Air KBZ. He has been in the aviation industry for more than ten years. Before moving to Myanmar, he worked in the aviation industry with AirAsia, Malindo (Lion Group) and Malaysia Airlines. He has been with MAI for five consecutive years through COVID-19 and government changes.
How did the airline cope in the past two years?
Thank you for the question. During the past two years, firstly, I would like to say that we are very proud that we were one of the few carriers in the region and the only Myanmar carrier who did not suspend our operations during the pandemic as we maintained essential services to crucial hubs in the region, including to Kuala Lumpur, Seoul (Incheon), Dubai International and Guangzhou. We carefully selected these international hubs to ensure that we can operate sustainably plus consistently, providing much-needed flight options for passengers who want to travel in and out of Myanmar, despite the commercial flight suspension, in tandem with our codeshare partners. Besides that, of course, like any other carriers around the world, we did a lot of repatriation flights, or we call them relief flights, on behalf of the Myanmar government and Myanmar embassies abroad, as well as did charters for identified key partners from oil & gas and shipping companies.
We also took a bit of risk by launching semi-scheduled flights, carrying passengers only out of Myanmar with no inbound passengers. So there was a bit of a commercial risk on our side, but it was well calculated, as these flights were meant to keep our aircraft in the air so we could reduce the fixed costs. And that eventually led one to another on a positive note and we did daily flights to Kuala Lumpur. So I think that's another first thing we are proud of.
And finally, last but not least, other than passenger flights, we did a lot of cargo flights. To give you a perspective, before COVID-19, about 3-4% of our revenue profile was from cargo operations. But during COVID-19, about 50% of our revenue and flights were cargo operations. I believe you've seen some of the negative publicity on our flights. However, we still kept our flights to Kunming and other cities in China, Singapore, etc., to support our airfreight movement does not stop, especially for the fisheries and garment industries.
In summary, I think we're very proud that we carried more than a million passengers during the suspension of commercial flights and about 30 million kilograms of cargo. Just from the international flight perspective, we operated nearly 6,000 flights.
What is your view on the passenger aviation market domestically at present?
We notice a high demand from domestic travelers simply because of two aspects. Firstly, people are still quite uncertain about traveling abroad because of many restrictions and financial issues. At the same time, we also noticed a shrinking supply regarding the number of seats in the market. For example, we have local airlines that have stopped operations or have downsized their fleet. Furthermore, the demand has pent up domestically due to restricting people's movement during COVID-19 to curb the virus spread in the country. So essentially, this has driven the domestic demand to go up because people love to travel and spend time with their loved ones outside their homes and the norm. So far, we have noticed substantial upside to key destinations like Thandwe (Ngapali), Sittwe, Heho (Taunggyi/Inle), and of course, Mandalay.
As an airline, we are continuing to explore opportunities. So, for example, I'm delighted to say that MAI is the only carrier operating a minimum of two Airbus flights per day on the Yangon-Mandalay sector, plus being the only carrier operating jet flights into Thandwe (Ngapali) Embraer E190 aircraft, which means that we have upgraded to a bigger aircraft with more seats.
What are your future, specifically the airline's future plans?
Our plan pretty much hinges on three main pillars. The first pillar would be our network. So we will continue solidifying our network for travellers to ensure we provide convenient travel patterns for our guests while maintaining network integrity. In the airline industry, network integrity at this point is not on par because many flights are being canceled. If you notice, even operators to Myanmar are canceling their flights due to uncertainties or various restrictions. But from our perspective, we have increased our frequencies in the past few months, primarily to Kuala Lumpur, Guangzhou, Hanoi and Phnom Penh. Secondly, within this pillar, we will continue to introduce new destinations so that we can operate to point-to-point destinations giving passengers the flexibility not to go via transit and saving their time and, of course, money. Lastly, from a broader perspective, we are working ever more closely with our codeshare and interline partners, more than 30 of them, to expand our codeshare offers to the final destination. This means that although MAI is restricted due to our fleet capability, we are not limited in how far the passengers can go. This is the first pillar.
The second pillar is technology. So besides networks, we are entirely focused on technology to reach out to our guests and trade partners with ease of use digital solutions. We have started friendly and automated solutions, reducing human intervention and driving efficiency. We have improved our call center and backend systems that support two carriers, which we have solidified into one. We have also made our online website flexible with comprehensive payment channels. And those are the areas we are improving, considering the current security situation with curfews and getting to places. We want to ensure that people can still reach the airline via mobile devices and telephone.
Finally, last but not least, customer focus. We really want to be a customer-centric airline. So we're expanding our ancillary offerings and value add-ons beyond the airlines' traditional ones. So, for example, we are unique in the market because we have a special partnership with our banking & finance partner, uab, with whom we have collaborated to introduce the MAI Xtra app and MAI-uab Visa co-branded card. And we also have the Sky Deals boarding pass program, whereby if our guests show the boarding pass across our 80 partners, they enjoy up to 30-40% discount. And, of course, we have our loyalty program called Sky Smiles. So these are the areas that we're reaching out to customers today.
In summary, the network is a typical airline's bread and butter. But beyond the network is technology to give accessibility to our guests and partners, plus the customer focus so that they enjoy traveling with us.
What is your view on the ASEAN open skies agreement?
I believe it's a pretty sensitive question, but I'll try to address it. In general, we appreciate the open sky policy as it brings more options to the consumers in terms of pricing and types of services. But at the same time, we firmly believe that an open sky policy could also be detrimental to a nation's aviation growth, which may be stunted due to competitors' scale and financial strength. As you know, Myanmar's aviation market, despite a long history, it's still in the infancy stage. Hence the focus should be two-pronged – one, adopting the open sky policy step by step, and two, supporting the building of a formidable homegrown carrier that is competitive and reliable to compete at the regional level.
The experience of an open sky policy differs from market to market. Of course, there are well-known examples, such as when Kazakhstan joined the open sky policy in 2009 or India when they liberalized their policies in the 1990s. In Kazakhstan, for example, European carriers bombarded the Kazakhstan market to the point that the Kazakhstan carriers couldn't grow. And the same happened with India, with the big three Middle East carriers coming in.
Now, you can see a shift in those policies. The Kazakhstan government has changed its policies. They have restricted the number of flights that European carriers can operate and we have seen Air Astana growing and reaching beyond their borders, becoming a well-known brand. The same is happening right now as we speak with India. You can notice that to compete with the big three carriers from the Middle East, Air India is now going all out with its privatization to Tata & Sons.
These instances show us that adopting an open sky policy should be balanced between a nation's aviation ambitions to compete with regional players, with a commercial mindset and scale efficiency. Before the open sky policy, we did experience significant stagnation in the country's aviation – which we accept. But that was due to not having a public-private model in place. So it is critical to not only ratify the open sky policy but also understand how nuanced or detailed it is. We must keep track of how other markets treat Myanmar carriers when it comes to our carriers trying to launch flights to other markets to ensure that Myanmar-based carriers' growth is not curtailed.
What are the typical challenges you face every month?
I would say not every month, maybe a bit longer than that, but we face issues regarding immigration and customs policy — primarily passport renewal passport issuance, which is still ongoing. So there are a lot of backlog issues when it comes to passport approvals. On the Myanmar side, we notice that it comes abruptly and disturbs our flights, such as pilgrimage flights to Gaya. So that is one area.
The next is more of operational constraints. Again, this is not just specific to Myanmar but beyond Myanmar. We have noticed issues with airport slots and staffing constraints with ground handlers, which drive down the SLA levels and service delivery. We see this across the board, including in Bangkok, Singapore and Kuala Lumpur. We also face it internally because many Myanmar staff leave this country to join foreign companies. Domestically,
we are also facing fuel supply issues outside of Yangon, for example, Dawei, Kawthaung, etc. But I hope it will be resolved soon because it impacts our payload and flights operationally.
Of course, as you may know, financial implications are another area. Overseas remittance is a big issue for us, especially in US Dollars. As you know, nearly 60 to 70% of the aviation industry is denominated in US Dollars, including aircraft leases, fuel, ground handling payments, etc. Hence, this causes many issues because we always need approval from the authority. And last but not least the rate of exchange. Not only the actual exchange rate but the fluctuating nature of it – this is also very critical.
So these are, I would say, day-to-day pains or struggles that we go through. But the length of the impact period depends on the individual subject.
With all these challenges, how do you intend to compete with airlines from neighbouring countries?
From an MAI perspective, it is very simple. We want to be the preferred carrier that would make the country proud at every level, from the passengers who fly with us, the partners who do business with us and the ticketing & travel agents who sell our tickets – which means across the board.
How do we plan to achieve this? Simply by four main areas – firstly, wider network at a reasonable price. We want to continue to offer unique destinations in terms of network and frequency to Myanmar travelers and beyond. And we aim to connect as many key markets as possible. At the same time, we want to provide these flights at a reasonable price, based on our restrictions and issues in Myanmar, so that the passengers can travel conveniently but affordably. So we will continue to do that. Today, if you a step back, we have the biggest market and capacity share in Myanmar. But more than that, from a network perspective, we have the largest network in and out of Myanmar. So that tells you that we are really pushing the envelope. So many of these destinations were not served before, even by MAI or another Myanmar carrier, which shows that we are moving forward.
Second is product differentiation and customized offers. We believe in customizing our offers as a home base carrier that foreign carriers could not provide. So, for example, our business class passengers traveling today, when you buy our business class ticket, you are entitled to the VIP Lounge, which means first class service at check in and boarding. Still, business class service onboard is the differentiation that is exclusive to us and that other airlines cannot provide. Other than that, because we are a Myanmar base carrier and know the Myanmar travel segment, we have specific products for the Myanmar pilgrimage for monks and nuns, students, and seafarers. These are the key niche segments that are specific to the Myanmar market. Foreign carriers will not understand if you operate one or two daily flights. So this is the additional product differentiation.
Third is simply going the extra mile. As a Myanmar-based carrier, we want to be empathetic and be touching in delivering our services. We want to win the guests' hearts and be in our customer mindset as their first choice. So MAI actively provides stretchers & oxygen onboard and pets in the cabin services. We are still one of the only ones in this region doing this despite our limitations and challenges, especially at foreign airports, because we do not have the right tools. But somehow, we managed to do it and because of that, many Myanmar travelers still like and prefer to fly with me.
Last but not least, which is very critical – our relationships with partners, whether it's travel agents, ticketing agents, tour agents, or travel associations – whether it's UMTA, MTM, Ministry of Hotels & Tourism, Ministry of Transport & Communication, we want to work with everyone so that we can push Myanmar as a destination, especially that we have weathered through the COVID-19 period. We are also working with strategic partners in banking & finance or healthcare in a holistic manner so that we can give passengers something worth more than just an air ticket and create an ecosystem they will be delighted to be in.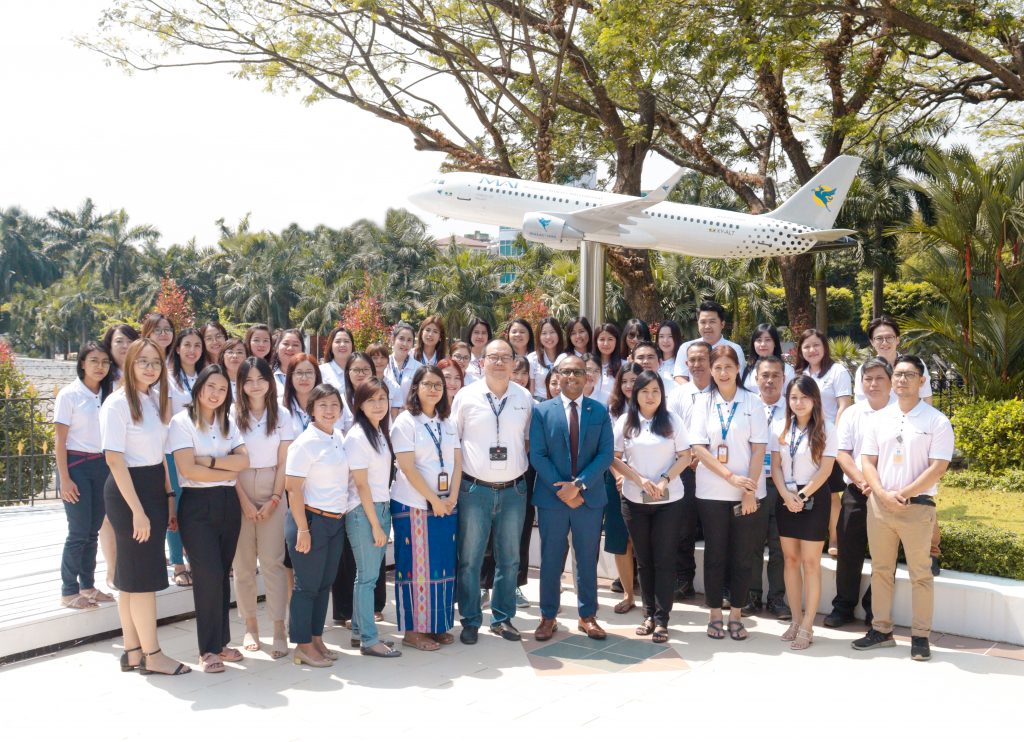 What improvements you'd like to see in Myanmar aviation. What can the government do?
I think the government can help in three ways. Firstly, destination marketing. I think Myanmar is in a challenging position to position itself against other markets in this region. So if you're going against Vietnam, Thailand, Cambodia, and Indonesia, Myanmar lags because of whatever perception others may have. So we need to have a holistic point of view on how we can reach out to the relevant markets. So ASEAN, China, India and the Northeast Asian markets like Japan and Korea should be our target markets. We should appeal to them because they are friendlier towards Myanmar and don't mind visiting here as they see us as brothers. Hence, we should all unite and make a collective marketing effort driven at a ministerial level with private entities and tourism bodies to reach out to the big players in those markets.
Secondly is the policies related to aviation. We should view aviation as a catalyst for the entire value chain. According to IATA, every dollar generated in the air transport industry equals USD 3.25 along the supply chain, while every job created in the air transport industry is equivalent to 6.1 jobs created in the value chain. So we should not put a chokehold on that aviation part. Comparatively, against other markets, we are facing high airport tax, inbound visa restrictions, insurance requirements, etc., which means that the total cost of travel to Myanmar puts them off, meaning that we are not getting everything else along the value chain.
We should reverse it and make things more relaxed at the start. And eventually, when the volume has been driven up, we can look at putting a bit more premium along the supply chain. Effectively, we should make it more conducive for Myanmar to stand out among other countries despite its politics and reputation.
And lastly, as a Myanmar-based carrier, we should reduce our challenges by improving the ease of doing business, whether it's with finance & banking, rate of exchange, visa regime for inbound travelers, or passport issuance for outbound travel. But the third point is a bit more complex because this is not just aviation related. So many areas are connected, but we have to look into the importance of travel & tourism to the country and how it can change the mindset of the people and find ways to make the restrictions a bit more relaxed.
So with improvement in these three areas, we would be in a better position to compete with the larger giants from our neighboring countries. As a Myanmar-based carrier flying the Myanmar flag, we just want to make Myanmar proud.