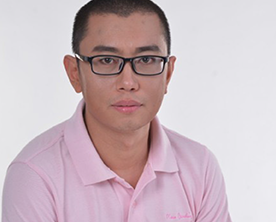 Name – Roson Luo
Position – Country Director
Nationality – Chinese
[paypal]
Brief career background
I have been working for Huawei since thirteen years ago. Before I worked for Huawei, I had worked as software engineer for three years. Five years ago, I came to SEA (SouthEast Asia ) region and worked as in charge person of marketing and product. Before I work in Myanmar, I had worked as a marketing and solution director at Thailand.
MI: When was your first visit to Myanmar?
My first time visit to Myanmar was in 2012, back then.
MI: What was your first impression of the country?
My first impression is local people are very good, honest. Country is has just opened up to world and with much potential.
MI: And how did you end up as the General Manager of Huawei Device Myanmar?
About four years ago, I came to Myanmar and I established the team here. In Myanmar, our revenue grew from 4 million in 2012 to 160 million in 2015.
MI: What is your opinion on country's current smart-phone mobile market?
Current smart phone mobile market is still increasing and undergoing rapidly growth. Now, half of the population started to use mobile handsets. This country still has many potential and opportunities for the future.
MI: What is the target market segment of Huawei in Myanmar?
Our target segment can be divided into two. First and foremost is mid end segment. Mid end means some young people who recently graduated from university and got a good job. They can afford mid end phones. They know the smart phones technology and applications in and out. Therefore, they can choose the good smart phone.
Another part is high end segment. Since last year, Huawei have been producing more and more high end phones such as Mate 7, P7 and P8. Some celebrities and stars also use  it. At the end of the January, we will launch Mate 8, a new smart phone of Huawei.
MI: How is working in Myanmar different compared to other countries?
Actually, I like working in Myanmar. Here, local people are so polite, calm down and honest. I feel very good to work here. Myanmar has very good environment for consumers. Consumers can choose the smart phone in the open market whichever one they like. In other countries such as Singapore, smart phones are provided by operator. So users cannot choose the mobile phone freely.
MI: How different are customer expectations here different compared to other countries?
In Myanmar, customers tend to choose low-cost phones. Secondly, customers in Myanmar, they pay more attention to design. They like a beautiful phone with white colour and gold colour. They pay more attention to these than the functions or applications of the smartphone.
MI: What do you think are Huawei's strong selling points compared to other brands?
In previous three years, Huawei have been producing high-quality phones consistently. Consumer like Huawei phone because of quality, firstly. Secondly, they like because of connectivity of Huawei. Huawei becomes number one brand in world in the network equipment industry. Huawei have the technology to solve the problems of smartphone and towers. Huawei have the technology to optimize the connectivity or signal for the smartphones and towers. When customers try to use Huawei phone for first time, they like and continue to use Huawei phones in the future too. Many Huawei users know the strong points of Huawei. Thirdly, Huawei cooperate with local partners, local staff and build good relationship with them. And we have our famous brand ambassador, Wutt Hmon Shwe Yi, the actress. Moreover, all new models of Huawei smart phones can use Myanmar language and they are localized.
MI: What is Huawei's current market share in the country?
Our current market share is around 36 percent for 2015. MI: What are Huawei's main products in the local market? For Myanmar market, Huawei main products are priced between $100 and $ 200. Our main products including G730, P8 lite and G300.
MI: What sort of difficulties Huawei faced while working for the first time in the country?
Last three year ago, Huawei came to Myanmar and face some difficulties of counterfeit products. Software versions are also not Myanmar version. Now, we are working to block these products and take action to the sellers, importers and distributors of such products.
Some low-end brands copy Huawei phones, for instance, their names are Huiwei, Huawai or something like that. Their name and appearance are similar to Huawei phone. But their phone functions, applications and qualities are much different to Huawei brand.
I would like to suggest to customer to buy their phone at Huawei official brand shop and Huawei partner shop. They will provide 1 year free warranty. So if they had any problem, they can alway go back to the our service centers. Now Huawei will open new service centers. In 2016, more than 15 service centers will be opened in different cities such as far away as Taunggyi.
MI: How do you see the potential of Myanmar's smartphone market?
Just like I had mentioned before, Myanmar's smartphone market has much potential. Now, mobile penetration is only around fifty percent. Many people are just starting to use mobile phones and Myanmar is one of the market with most potential for smart phones. In the future, I believe smartphones will help people life. By using smartphone, people can surf the internet to get the information and share the photos on Facebook easily and effectively. Online shop businesses have also been booming in Myanmar. In the future, we will cooperate with online shops and customers will be able to buy Huawei brand mobile phone on online.
MI: From which regional production centers Huawei products are imported into Myanmar?
Huawei products are imported from South East Asia (SEA) region. Our product center is situated at Hong Kong
 MI: Let us know of your past and current Corporate Social Responsibilities (CSR) projects here?
Huawei had done lots of Corporate Social Responsibilities (CSR) projects. Our marketing team donated at orphanage house. Moreover, we gathered Huawei fans on Facebook and donated to animal shelter. Last year, we gave scholarships to 50 university students who got $1000 each. As part of the Huawei Authorized Network Academy (HANA) program, Huawei donated over 300 million kyats worth communication technology curriculums to Tanlyin Technology University. Recently, Huawei supported the rehabilitation efforts in the flood damaged areas. The company has also set up a 24/7 team with the major telecom operators (MPT, Telenor, Ooredoo and MECTel) to repair and ensure communications services are back online as soon as possible. And Huawei donated over 300 million Kyats to flood effected population.
MI: What are the long term objectives of Huawei in Myanmar?
In Myanmar, the long term objective of Huawei is to help Myanmar people to communicate easily. Huawei has two groups. First one is smart phone group. We will provide cost effective phones as well as high end phone which have best functions for the people. For example, Huawei P8 camera function is really good and can operate as professional camera. So customers do not need to buy a professional camera and save the money. Huawei also provide cost effective phone where system and functions of phone are good with much lower prices. Another thing is Huawei make lots of research to improve technology. We have trained lots of technicians. You can go to service center and technician will explain how to enjoy the phone.
MI: What is your opinion on current IT and Technology trends?
Mobile internet is trend of the future. It means more people will use mobile phone as the internet terminal. Ten years ago, in any developing country, people use latop or PCs for internet. Nowadays, people use mobile internet. Myanmar is really lucky because it directly jump to mobile internet.
MI: If you could make one major change to any government policy, what would it be?
This question is difficult for me. I am not a professional in government policy making. But in my opinion, they are very clever to solve the country problems and open the market. I believe Myanmar economy will be better in the future.
MI: How are you enjoying your day in Myanmar?
I really enjoy every day in Myanmar. I like Myanmar culture. Myanmar has long culture and history. I already went to Bagan and feel the long history of a dynasty. I like local Myanmar people. They are very calm, down to earth, honest and polite.[/paypal]