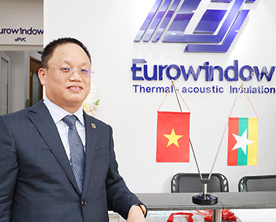 Name : Nguyen Canh Hong
Position : CEO OF EUROWINDOW
[paypal]
Please tell our readers about Eurowindow.
Eurowindow was established in 2002 in Vietnam. Over the past 15 years, Eurowindow has become the leading solution provider of doors and façade in Vietnam and is developing strongly in many countries around the world. Currently, Eurowindow has five factories, two of Vietnam's largest and most modern glass centers and more than 40 showrooms and hundreds of distributors. Eurowindow's factories are equipped with advanced and synchronous production lines that are imported from leading suppliers in Germany, Italy, Finland and Spain. Eurowindow employs more than 4,500 staff including leading experts in technical felds, engineers in Vietnam and abroad, and skilled workers who are trained professionally.
What inspired Eurowindow to open its offce in Myanmar?
Through our research of the construction materials market in Myanmar, we realized that Myanmar's demand for door products and glass aluminium walls was huge and spreading in many areas. Meanwhile, the market still lacks the supply of high quality materials. Therefore, we have decided to expand and develop in this potential market.
W h a t k i n d s o f p r o d u c t s Eurowindow will provide for local and international companies?
Currently, the main product lines that Eurowindow is offering include: u-PVC plastic doors with reinforced steel core; aluminum doors and large glass walls; wooden door; fire resistant wooden door and wooden floor; high quality aluminum wooden doors and glass products (safety glass, tempered glass, glass box, patterned glass). In addition, Eurowindow also offers products such as: automatic door, rolling door, hydraulic door. Eurowindow products  are environmentally friendly and are manufactured in accordance with European standards. Our products have with many unique features such as thermal-insulation, sound-insulation, multi-dimensional, heat-protection that are suitable for a variety of designs ranging from villas, hotels, apartments to offce buildings.
With high quality products and unique features, Eurowindow products have been trusted and used in tens of thousands of big and small projects in Vietnam, Laos and Cambodia. Besides, Eurowindow products are also exported to countries like Australia, Thailand, Japan, etc.
Who are the major partners of Eurowindow in Myanmar?
Eurowindow is currently setting up a system of partnerships in Myanmar. We are aiming to work with developers, contractors, investors, design consultancies, and architects in Myanmar to be our partners for market and product development.
What is the target market segment for Eurowindow?
With the position as the leading provider of doors and facades, Eurowindow's products are targeted at high-income customers, large investment projects, projects that require high technical and quality products such as villas, hotels, office buildings, luxury apartment buildings, hospitals, airports and key national projects.
W h a t i s y o u r v i e w o n t h e construction sector in Myanmar?
In my opinion, the construction industry in Myanmar is growing exponentially. Construction in Myanmar is focusing on civil construction buildings, mainly in the commercial, service, hotel, offce and luxury apartment complexes under the Government's urbanization strategy. Personally, I think construction is the "hottest" industry in Myanmar. Policies to attract foreign investment are strongly promoted in Myanmar. Therefore, Myanmar is considered a new potential market for investors, and construction is the industry that are much interested by international investors.
What are your future expansion plans?
Eurowindow's goal in the first year will developing our market with our European standard and building factories to meet the market demand starting from 2019. In the coming time, Eurowindow will work closely with developers, contractors, architects and design consultants to deliver optimal material solutions for existing and about-to-bebuilt buildings in Myanmar.
[/paypal]