What is the history of Shan Orchard?
One year ago, on 12 February 2022, Shan Orchard Myanmar Limited, based in Heho (Southern Shan State) became the first company in Myanmar to establish a new cold-press avocado oil factory.  With this historic accomplishment, Shan Orchard is seen as the company that kickstarted the avocado oil industry in Myanmar and a game-changer for the Myanmar avocado industry.  Founded in December 2017, we planned for Shan Orchard to be a pioneer and international-standard company from the start.  Shan Orchard is fully complaint with International Financing Corporation (IFC) standards on Environmental Social and Governance (ESG), and we have audited financials and taxes filed since the start of the company.
During this avocado season, Shan Orchard continued to make history by producing Hass extra virgin cooking oil for the first time in Myanmar using Hass avocados harvested from Southern Shan State.  Based on official lab test results, the oil matched all the indicators for premium quality avocado oil as those produced by countries like Mexico, United States, Australia and New Zealand.  In addition to being Myanmar's first avocado oil factory, Shan Orchard became the first avocado producer in Myanmar to receive Global Good Agricultural Practices (GLOBALG.A.P.) certification back in October 2021 – the gold standard for food safety globally.  Shan Orchard also established the first avocado laboratory in Myanmar with technical assistance from Plant and Food Research (Avocado Scientists from New Zealand).
Shan Orchard's pioneering efforts are part of a USAID development project called "Myanmar Avocado Oil Production," a Private Public Partnership (PPP) between Shan Orchard and the USAID supported Agriculture and Food Systems Development Activity.  Structured as a co-investment partnership, this two-year project integrates smallholder farmers into the avocado oil supply chain while providing supporting equipment and technical assistance to Shan Orchard's oil production operations.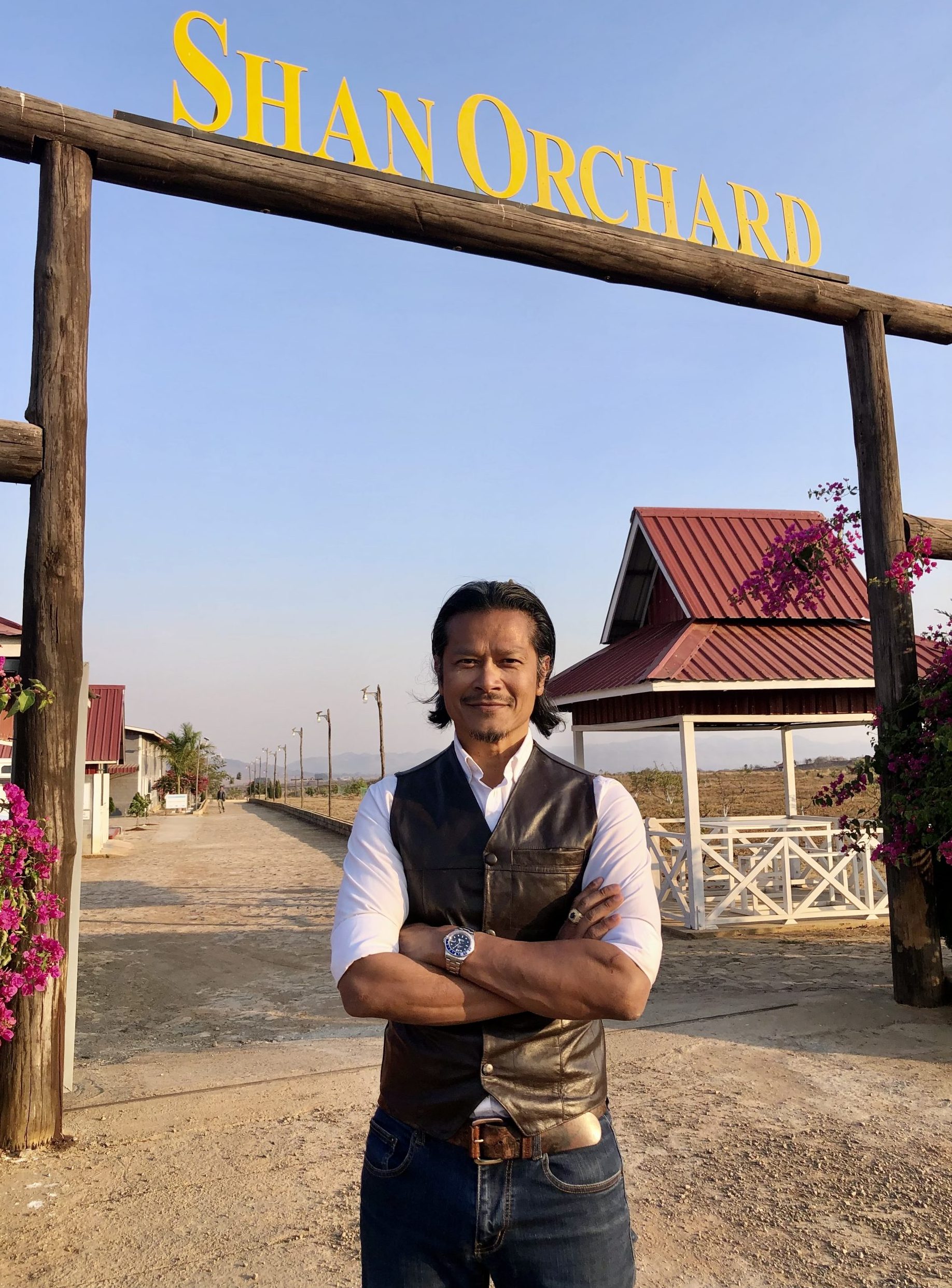 How did you end up in Myanmar in the first place?
I was born in Tharrawaddy (Myanmar), and I came back in January 2016 to take a General Manager/Chief of Party position on a development project called "Water For Livelihoods" funded by LIFT, which was being executed by Prime Agri Limited in Southern Shan State.  On a personal side, I came back to my home country since I felt a pull to come back after retiring as a Major from the United States Army.  Having deployed to Iraq and Afghanistan and seeing the conditions in those countries, I felt the need to come back to Myanmar to make a difference.  My father returned to Myanmar in 1996, and he was already operating his own successful microfinance bank and fighting poverty in Yangon by the time I arrived.  Coming back to Myanmar allowed me to live out my dream of having my own orchard and producing my own products.  This would not be possible in the United States with the ridiculously high land prices.  For me, Myanmar has so many business opportunities, and Southern Shan State is where I found my happiness and fulfilling work.  But I did have to re-learn everything about my home country – the language, the people, the culture, and the local laws.
Why do you decide on avocado business?
I looked around Southern Shan State for the first two years to decide on the kind of business I wanted to pursue.  Growing potatoes and onions with farmers during LIFT project revealed to me the seasonal and financial risks associated with those crops.  I grew up with Hass avocados in my backyard in Southern California so I already had a connection to avocados.  Southern Shan State has similar climate to Southern California, as evidenced by large amounts of avocados coming out of Southern Shan State annually.  In Myanmar, avocado production is dominated by smallholder farmers.  The farmers typically sell their avocados to traders without playing a role in the value adding process.   I saw the immense opportunities in Myanmar avocado industry since it was lacking organization, avocado research, technical expertise, good harvesting practices, and investment in post-harvest value adding capabilities.  Most local people do not know that you can produce oil from avocados and the healthy benefits of avocado oil.  Avocados and avocado oil are called "Green Gold" around the world for their business potential.  Over the last 15 years, avocado oil demand has grown rapidly due to its health benefits, and the time is now for Myanmar avocado farmers to take advantage of this worldwide popularity.
What are your challenges when starting up?
Like any start-up company, we faced the challenges of managing limited amount of startup capital while trying to build a solid foundation for our company.  Land acquisitions took over two years since we had to find landowners who were willing to sell their land around our selected site.  Many potential investors rejected our investment proposals before we landed our first outside investment from Anthem Asia, a private equity firm based in Singapore.  We had to wait over two years to get approval for "other use" land permit to build hard structures on a portion of our agriculture land, which delayed construction of our oil factory.  We failed at drilling for water on our land two times before being successful with a government-owned drilling rig on the third attempt at 450 feet.  We waited over one year to get the government drilling rig.  Despite those challenges, we stayed true and focused on our original business plan with small adjustments along the way.  I believe this is the main reason why Shan Orchard is in a good position today.
What are your operating and farm stats like?
I designed Shan Orchard's campus based on my experiences with California wine vineyards and Texas ranches.  We operate a GlobalG.A.P. certified 34-acre campus next to Heho Airport with over 4,000 avocado trees planted.  Most of our trees are Hass variety.  Since receiving our MIC permit on 31 October 2020, we completed the construction phase of our company on 30 September 2022.   On one single campus, we operate an avocado oil factory, bottled drinking water factory, and cooking sauces factory.  We currently employ twelve local personnel who are cross-trained to perform tasks at all three factories, and I am the only Expat serving as Managing Director.
Who are the owners of Shan Orchard?
Shan Orchard Myanmar Ltd is registered with DICA as a foreign-owned company with majority shares held by Shan Orchard Pte Ltd (Singapore Holding Company) and minority shares held by a local shareholder, Daw Thel Suu Thinzar Bo, who serves as a Director and General Manager of the company.  Shan Orchard Pte Ltd shares are split between me, Daw Thel Suu Thinzar Bo, Mr. Daniel Bennett (New Zealand), and Anthem Asia.
What products actually come out of your operations?
Over the last 12 months, we have been aggressively expanding our product line by producing high quality Hass extra virgin avocado oil for cooking, crude avocado oil for cosmetics, Shan Orchard brand avocado cosmetics, avocado oil-based cooking sauces, and Shan Orchard brand bottled drinking water.  Shan Orchard's avocado oil is already being sold at Marketplace Supermarkets under the label "Olecado" throughout Yangon. Recently, Shan Orchard signed a distribution agreement with a nationwide distributor to exclusively distribute our brand of avocado cosmetics such as body lotion, shampoo, conditioner, shower gel, soap, hair oil, face and body serum, sunscreen, facial foam cleanser, body scrub, facial mask, lip balm, and pain relief balm.  We are producing for Wolf Kitchen six different types of cooking sauces which use avocado oil in the recipes for Keto dieters.
What are your primary markets?
Like most supply chains, avocado business is transitioning to regionalization due to high shipping costs and decreased reliability of a globalized supply chain.  Therefore, we are focused on Thailand, China, and India for export markets since we can access those markets via border trading with ground transportation.  For sea shipments, we are targeting Singapore and Indonesia.  However, with foreign companies being hesitant to source products from Myanmar, our primary market right now is the domestic market for both avocado oil and avocado cosmetics.
What difficulties are you facing right now?
International buyers for avocado oil are reluctant to buy products from Myanmar due to imposed sanctions.  With the uncertainty hanging over the government, foreign firms view Myanmar as high risk and are unwilling to invest in local companies or come for a visit.  In addition, the gap between Myanmar Central Bank US Dollar exchange rate and the market rate is so significant that local companies are having difficulties with business activities involving currency exchange.  Lengthy power outages throughout Southern Shan State is disrupting our operations.  High fuel prices have significantly increased our costs for oil production.
What are your future plans?
For the future, we plan to stay committed to producing high quality products at affordable prices and providing outstanding customer service.  Our vision is to make Heho a major avocado zone by the year 2030.  We hope to encourage others in Myanmar to invest in more value adding capabilities for avocado sector and draw international interest in making Myanmar a new avocado supply base for the global market.
Sustainable avocado agriculture is at the core of Shan Orchard's mission.  After processing the oil, the avocado waste pulp, skins, and seeds become bio waste and are turned into compost for organic fertilizer.  The water extracted from the oil is collected due to its high nitrogen content and is applied to avocado trees on Shan Orchard's campus.
We are now pursuing off-grid solar to power our factories as the next project with USAID and Smart Power.  Based on our reputation and past performance with USAID projects, all stakeholders want to showcase Shan Orchard as using solar power for industrial purposes in order to convince other local manufacturing companies to look at solar power as a viable option.
We are also interested in growing and milling Myanmar coffee since it is considered a specialty coffee.  We currently have planted 8 acres of arabica coffee between avocado trees, and we are excited for the day when we have coffee beans coming out of Shan Orchard.