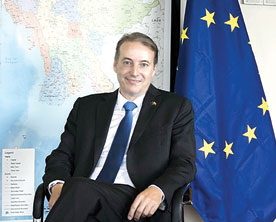 Name : Kristian Schmidt
Position : EU Ambassador
[paypal]
W h a t i s y o u r o p i n i o n o n current government being truly democratic?
I think it seems democracy is in transition meaning that there is some way to go. Of course, the constitution recognizes that this is on the way to democracy. So, there is still work to be done.
In what specific areas are you planning to support Myanmar in the current year?
We are going to support in four main sectors. The first sector is support for transition to democracy. We are supporting parliament, rule of law, good governance, fighting the corruption. All these issues are key to Myanmar's success in bringing to democracy. The other area is peace. European Union historically has been a strong supporter of the peace process by supporting all sides in their capacity to understand and negotiate a peace agreement and to reward with power support those who brings a peace, who are ready to give up and who join the peace process.
The third area is education. Myanmar rightly expects to improve services and assets to quality education, in particular women all over Myanmar and also in the Asian areas. European Union is investing €220 million in education over the next 4 to 5 years.
The last area is agriculture because it is the backbone of the economy of Myanmar with plenty of water resources and fertile land. Myanmar has great potential to become an exporter of agricultural products. European Union is also addressing the challenges of nutrition. Myanmar is still a country where there is high level of malnutrition and poverty in rural areas. We feel that is important. We support to address that. These are the four key areas.
What is your opinion on current s i t u a t i o n i n R a k h i n e s t a t e and its political and economic consequences?
The European Union is highly concern about the situation in Rakhine state. The good recommendation that will set out in the report of the advisors of the Rakhine state. We are very concerned by the delay of implementing those recommendations. These recommendation if implemented could bring long-term solutions to Rakhine state. All ethnic minorities in Rakhine state in Myanmar as a whole have to gain equal opportunity for education, feeding a family, accessing corporate services and also eventually achieving citizenship.
The refugee now in the camps in the Bangladesh. This is the largest refugee of humanitarian crisis in the world. The agreement between Myanmar and UN has been signed for involving the UN in the return of these refugees. The international community will continue to have the question about accountability for the violation and the continued discrimination against certain groups in Myanmar. This will impact the attractiveness of Myanmar as an investment distinction. So, it is imperative for humanitarian development and economic success of Myanmar.
How does the current economic downturn in Myanmar affect E u r o p e a n b u s i n e s s e s a n d investment opportunities?
So far, investment has grown, annual growth of the economy is 6 to 7%. I think most European investors believe that it could be 10%. So, it has to be pretty hard for Myanmar to catch up with this competitors in the region in Southeast Asian countries. Myanmar has been closed for decades and now needs to catch up. There was a peak of investment. It now slowdowns. I think European investment and trade will continue to grow.
How does the EU help to improve the peace process of Myanmar?
The EU has helped a lot for the peace process of Myanmar. Peace will remain the main focus sector of Myanmar because there cannot be democracy and prosperity where there is an ongoing conflict. Myanmar peace development is still held back by conflicts in Rakhine and Kachine states. Myanmar parties can negotiate and take the necessary bold decisions for the interest of the country. Our role is to encourage and support financial assistance on peace initiatives across the country and particularly in ethnic areas. We work with people on the grass-roots level on rebuilding livelihoods and strengthening inter-communal dialogue. We rebuilt schools and infrastructure in conflict affected areas.
Our engagement includes dialogue at the highest political level where we continue to promote and support inclusive dialogue for a sustainable peace agreement. The National Ceasefire Agreement (NCA) between Myanmar government and the ethnic armed organizations has been signed on October 15, 2015.
W h a t i s y o u r o v e r v i e w o n human capacity development of Myanmar?
Myanmar is opening up to the world both physically and mentally. The onslaught of globalization, social media, international scrutiny – this takes time to absorb and it calls for open minds, innovation and a willingness to consider fresh ideas. Boosting education sector and modernizing curricula and education facilities are the most important investments for the better future. Myanmar's development will also depend on how attractive it becomes as an investment destination. Foreign investments create jobs, but the country need an educated workforce to fill these jobs. Myanmar will also become more attractive to quality investments if your workforce is well educated and skilled.
[/paypal]