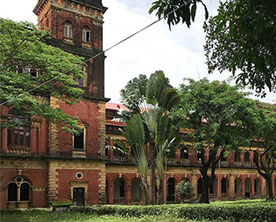 The 120-years old Secretariat complex, which occupies approximately 16 acres across an entire block in Botahtaung Township is getting a new lease of life. The Secretariat is one of the largest colonial buildings in Southeast Asia as well as one of the most important buildings in Myanmar. Since it completed in 1905, it has played a crucial role in the administration of the country. It was the pre-eminent structure associated with the government during this period. Singapore-based sustainable design firm Pomeroy Studio has now been appointed to restore the Secretariat building to adaptively re-use as a cultural complex. It is expected to finish in 2019. Their multiple appointment for conservation architecture, interior design, landscape design, lighting, way finding and branding will see the sensitive restoration of the abandoned 120-years old former colonial government office – turning it into a cultural complex containing museums, galleries, cultural event spaces, lounges and offices for creative industries. These functions will be complimented by an array of heritage, retail, and food and beverage spaces set within lush, landscaped gardens.
Prof. Jason Pomeroy, Founding Principal of Pomeroy Studio said "The Secretariat is recognized as one of Yangon's most important heritage buildings, and has been the scene of the most defining moments of Myanmar's modern history. This includes the assassination of General Aung San, which paved the country's path to independence. Restoring this grand colonial building to its former glory and reinvigorating its internal spaces with a programmer of arts-related functions, seeks to both preserve Yangon's cultural past, and cultivate Myanmar's creative future"
History of Secretariat
Secretariat was designed by British architect Henry Hoyne-Fox (1855-1905) as the epicenter of Rangoon (present day Yangon), the first South-East Asian garden city. Work started in 1890 on the central building, with the Eastern, Western and Northern wings added in subsequent years.
The building was also the place where Myanmar's first steps towards independence happened. The diarchy (Legislative Council) was established at the Secretariat in 1923, giving Myanmar a limited measure of self-rule. It was the location where Myanmar formally separated from India in 1937, and where the largest anti-colonial student demonstration at the time occurred in 1938.
After the Second World War, independence negotiations began, and by 1947 an agreement had been reached with the then independence leader, General Aung San. On July 19, 1947, however, Aung San and eight other people were assassinated in the west wing of The Secretariat, a murder that has since been commemorated every year as 'Martyrs'Day'. Independence from Britain was finally marked in the quadrangle of The Secretariat complex's main courtyard in 1948, a key event in Myanmar and British history. It continued to be the center of post-independence governmental administration until the capital was relocated from Yangon to Nay Pyi Taw in 2005.
The Renovation Road
In 2011, plans to privatize many of Yangon (former capital) state-owned colonial buildings were announced. In 2012, the government announced that local developer Anawmar Art Group had been selected as winner of the Secretariat building and leased for 50 years which began in 2015. Lae Yae Soe, Managing Director of Anawmar Art Group, said they will spend an estimated $ 50 million for conservation as suggested by the Yangon Heritage Trust.
But there was controvery toward Anawar Art Group. It's Managing Director, Lae Yee Soe's husband, Soe Thwin Tun is the grandson of Tun Kyi, a former general in Myanmar's previous military government.
Moreover, in March 2015, Thi Thi Tun, daughter of general Tun Kyi as well as an investor in Antiwar Art Group hosted a birthday party. Tun Kyi was a minister for commerce in the late 1990s that was forced to resign in 1997 admist corruption changes.
One of the elites guest who attended the party, Aye Ne Win, grandson of Ne Win, the former dictator, posted pictures on Facebook of "A Casual Dinner at one of the Most Official Venues in Town". The online posting of pictures from the event by Ne Win's grandson Aye Ne Win and others brought a lot of criticism from local Facebook users, including the country's Information Minister Ye Htut back then.
Later, to respond the criticism, the birthday girl wrote on Facebook it was misunderstanding because it was just a meeting, not birthday party. She wrote that Anawmar was finding ways to get the funding to cover the expenses of renovating and maintaining the building.
Restoration and Reinterpretation
Pomeroy Studio is working with heritage and conservation expert Prof. Luigi Croce, of Architetti Croce, who has worked closely with Pomeroy Studio in design and research projects in Europe and Asia. The Padova, Italy-based firm are taking a careful restorative approach that seeks to preserve the exterior and key internal areas of historical significance and reinstate the original building's details that were of architectural merit. The extensive settlement, an earthquake and the general dilapidation that took place over decades of neglect presents acute challenges in the restoration. A counterpoint to the restoration of the British colonial structure was the careful reinterpretation of Burmese cultural elements. A striking feature is the new roof structure that caps a lofty cylindrical atrium space, replete with grand wrought – iron staircase, which was once crowned by a heavy brick dome. Given settlement and structural issues, a lightweight and sustainable solution was needed. Pomeroy studio thus created a unique reinterpretation of the 'Pathein' (Traditional Myanmar Umbrella) that sought to perform the very same tasks of counteracting direct glare from the sun; protection from the rain and acting as a heat vent – albeit at building scale.
Myanmar culture was brought further into the interior spaces by reinterpreting 'Pan Se Myo' (ten traditional arts), that range from stone carving through to lacquer ware. These techniques sought to sensitively complement the original shell and core of the 19th century building whilst also employing local craftsmen and their skills.
Environmental Rehabilitation
Colonial Rangoon was once heralded as Asia's first garden city; yet urbanization has seen the gradual erosion of green open spaces in modern Yangon. Pomeroy Studio was also appointed for landscape design with a particular emphasis on rehabilitating the greenery and restoring the parklands, quadrangle and grand lawns to their original condition.
The cultural celebration of Martyrs' Day through a central memorial, coupled with sensitive lighting will be the focal point of the new landscaped quadrangle, which will provide a welcome respite from the busy and bustling city outside of its walls, and thus create a muchneeded green open space for the south of Yangon.
Given that the buildings themselves were designed before the advent of electricity, the original high ceilings and large windows/skylights will continue to optimize natural light and ventilation, with the careful use of new smart technologies and modern conveniences to enhance the visitors' experience and, reduce overall energy and water consumption. Locally sourced materials, crafted locally and expert supervision by restoration experts from Italy seeks to further ensure the overall sustainability of the development.