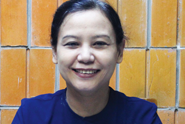 Dr. Daw Moe Moe Khaing currently helds the position of the head of department of management studies. She has a Ph.D Degree in Business Ethics from University of Witten/Herdecke at Germany. She shared her teach.
[paypal]MI: How did you begin your career in Education sector?
Since I was young, teaching was my ambition over other careers. My only desire was- to be a university teacher. The main reason for this was that I wanted to study and continue research more and more.
MI: How did you end up your current position?
I only had a desire to be a teacher but never imagined being a professor. I just thought I would teach and do research. But, when the right time came, I was promoted to professor. I became professor in an unbelievable time span so I faced many difficulties at first. MI: What are your duties and responsibilities?
My main responsibilities include teaching, research and also administration.
MI: Could you please tell us more about Master of Business Administration (MBA) and Executive Master of Business Administration (EMBA) classes that you are currently managing?
Full time MBA classes were founded in 1995 by Dr. Daw Yi Yi Myint who graduated from Stanford University. Since then, MBA classes have been very popular. There is one thing, we always say to our students, that is MBA classes are not only about studying theory. The students should apply theories to their businesses. We started MBA with student-centre-teaching methods. All students have to do internships. We opened EMBA for people who cannot attend full time MBA in 2002. The person who wants to attend EMBA should be over 30 and have at least 8 years work experience at executive level, but one can apply with 2 years work experience for the MBA program. Now, Full time MBA reaches its 21st Batch and EMBA 13th Batch. Most of the courses in EMBA and MBA are nearly the same.
MI: What are the strong points of YUE's MBA classes to compete against the other private MBA classes in the country?
The most prominent strong point is the tuition fees. Students can pay fees at government rate, which is so cheap compared with other private MBA courses. MBA students have to pay only US$ 10 per month. According to our system, all applicants must take
entrance exam. So, it is very competitive to gain entry in to MBA classes. Last year, nearly 1000 application forms have been sold out and 670 applicants took the exam. Out of these, we chose only 95 people in total. Al- though there are lots of people who want to attend, we select only those who are ready to attend our classes. In addition, a wide range of subjects on offer is also one of the positive points. Students have to study 12 subjects in first semester and another 12 in second. So, 24 subjects in total have to be learned. Most of the students appreciate studying many subjects since they want to know everything. I heard in some private MBA classes, their system is only assignment system. Students do not need to take exam. But, in our class- es, Students must take exam to pass one academic year. We also count attendance and participation in class. Another point is most of the teachers in our classes have lots of teaching experience and many are professionals in the business sector.
MI: Is there any plan to expand classes in future?
If possible, I wish to open many other classes. But now, it is not possible. We have only about 10 teachers who can teach MBA classes. If we get a helping hand from my junior teachers in the coming two or three years, we have a plan to open and give MBA in specific subjects.
MI: Compared to past, why do you think more people are interested in studying economics and business? Some of my students said that if they do not study more and more, they will be left behind. Other students are making preparations to get more opportunities when many foreign companies come to Myanmar. Some think that applying for a job with only Bachelors Degree is not sufficient and studying more can become a weapon in the competitive business war. So, the popularity of Business Studies is growing bigger year by year. MI: What kind of changes in your opinion need to be made to the cur- rent curriculum to meet the international standard?
Changes in curriculum should always be done and it is also needed. In our university, we have a Board of Study meeting every year. In this meeting, we discuss about our curriculum whether it fits with today's needs and which kinds of subjects are more suit- able and useful. During recent years, we regularly review our curriculum whether ours meets the international standards. Then, we also change to better text books year after year.
MI: What kind of collaboration have you entered into with foreign universities and organization?
In these two years, foreign universities and organizations have been visiting with many offers. They come to give scholarship to our students and to collaborate with our university. So far, YUE has signed 30 MOUs with international universities from different countries. They are from USA, Japan, Germany, Korea, Thailand, Australia and Malaysia. The collaboration mainly focused on MBA classes is with Indiana University's Kelly School of Business. They help us in drawing the curriculum. Then, Asia Pacific University and International University of Japan have also offered student exchange program and double degrees. We have a plan to open Bachelor Degree course with Denmark University, Niels Brock.
MI: What are your plans to promote career development of your graduates?
As I already mentioned above, students from MBA classes have to work as an intern for about 10 months after first year. If they are smart and clever in work, most of the employers appreciate and offer jobs after graduation. Most of the students get jobs through this internship program. For Bachelors program, we had career fair on 20th and 21st July at Yangon University of Economics Ywarthargyi. On 20th July, we had a panel discussion "Preparing for Job Opportunity", which included 4 or 5 business- men, for students. We are also starting the plan of matching our students with suitable work. Our future plan also includes starting a career centre for our students. The organization from Indiana University, Project health holds seminar about Business Ideas and Business Idea Plan Preparation and provides competition within the university.This program is mainly aimed for students who want to set up their own business after school.
MI: In which way do you think YUE has changed since its foundation?
The main change is in ideas. In socialist regime, the curriculum included socialist ideas. But, after 1988, we do not need to teach socialist ideology and can focus on pure business ideology. Then, in past, there were only three departments: commence, economics and statistics. But currently, we have extended more departments namely management, applied economics departments. There is also an increase in Master programs; Master of Public Administration, Master of Development Studies and Master of Banking and Finance. We also have many certificate and diploma courses in the Human Resource Development Centre. Then, we are collaborating with many international universities. We are preparing to open national public policy courses. Our economics department also gives business and management classes for government officials. MI: What do you think is the key to a successful education system?
The system must have a good purpose.I think what is aim for whom is the key the for system. Since the nature of education for the system is for improvement of citizens' education, it should be a suitable system. The second need is the design for this system. When we draw the design, we should consider the long term process. If both the system and design are in good condition, we need a process which controls the system. The most important are the people from this process. We have to plan to improve their abilities. Most of the teachers in our department have lots of teaching work which gives stress. In international universities, the instructors' teaching load is much lower than ours. So they can prepare for one period of lecture and get tune for research well. Re- search can also be called life of the university. Without research, we cannot improve. We need to increase incentives for research. If all components are good, this system can be successful.
MI: What kind of advice would you give to someone in choosing the right career path after the matriculation exam?
I want to give suggestion that I had given to my own daughter. When my daughter was in grade 8, she asked which subject she should choose after graduating from middle school. I asked her what she wanted to do. She said that she want to be neither an engineer nor a doctor. So, I answered her if she is interested in nothing, she should study business. The reason is we cannot live with- out business in our whole life. There is one saying, "Do what you love or love what you do" So, students should find something that they are really interested in. If nothing, only choose business. We can earn money after a degree in management.[/paypal]