"Getting married, building a pagoda and getting a tattoo are the three things that once undertaken can only be altered afterwards with great difficulty" is an old saying that is well known among Myanmar people.
The process of using the needles and ink to paint various arts on one's skin, known as "Htoe Kwin" or "Tattoos", has been widely performed throughout the ancient times. And it has also been a worldwide subculture, including Myanmar, which shows bravery, resilient, maturity and heroism of men for over thousands of years.
As time passes, getting a tattoo has become a fashionable trend for not only men but also among women and youths. However, the impressions on the tattoos has no longer remained the same. Even though it was a subculture to have a tattoo or two in old times, it has become an eyesore and a disgrace to the adults' point of view. Moreover, as women nowadays also are getting themselves tattoos as beauty or fashion, there are several distinctive feedbacks all around the stomping ground.
According to HuffPost, people these days get tattoos for many reasons: for attention, self-expression, artistic freedom, rebellion, a visual display of a personal narrative, reminders of spiritual/cultural traditions, sexual motivation, addiction, identification with a group or even drunken impulsiveness.
Some people mark themselves for life to remind them of past family members or ancient sayings or religious scriptures or names of their current family/love interest. Other people use tattoos to enhance their sexual prowess or feed their exhibitionist side, and many people use tattoos to visually promote their identity and/or group affiliation.
Although both men and women today get tattoos, most of the tattoo artists are men. Yet, there are a lot of people everywhere who has belief that doing what they love would bring them joy and has passion about which path they have determined to take, too. A young lady aged 27 who was graduated with medical degree yet, currently running a tattoo business despite having all the negative comments about her change in career. A resident from Mandalay and her name is Kyal Sin Su.
"Being a tattoo artist is my passion. Like other countries, I believe Burmese girls also have women power. When I chose to become a tattoo artist, at first, people around me would find it hard to accept me because of me being a girl and I was graduated from University of Pharmacy… not to mention, I had also been working for 2 years with that degree for my family. Later on, as I saved my income by making and selling the handicrafts to get the equipment that are necessary to start up a tattoo studio. So I proved everyone that I can handle any obstacle."
Kyal Sin Su also claimed that she started the studio in April 2016 with the name BigStar Tattoo Studio one month after having a painting class. As she started alone, her only customers were only females who wished to get small tattoos or to cover their scars on their skin. Some of her female customers were foreigners. She said she sees tattoo as an art and now that she could support her family with her income, they eventually accept her career as a tattoo artist.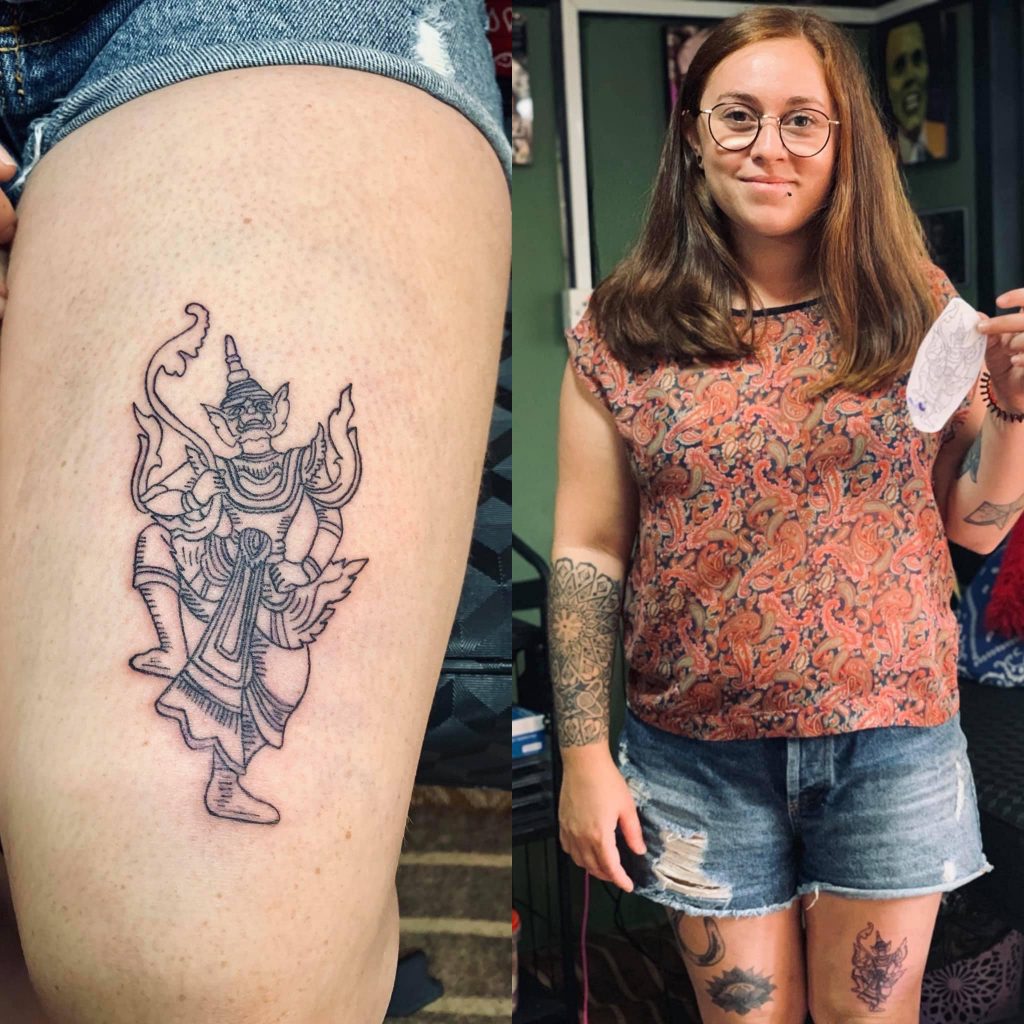 On the other hand, just as individuals have different opinions, there is also a 37-year-old man who regrets getting tattoos as a youngster despite being disapproved by the family. "Sixteen is a rebellious age. You just want to do the exact opposite of what people say. So knowing that it would badly hurt, I got myself drunk so that I could resist the pain," said Jacob, a Pastor of Bethel Baptist Church from Byandi village.
Having two tattoos, one on each arms, as a Pastor of a Church, he said people from the Church do not show any disrespect, yet they accept the person for who he was and who he is now.
Even though some think having tattoos is what the gangsters or people with bad behaviors do, there are also others who accept it as a fashion trend. Khant Nyein Htet, a student who has just finished the final year of University of Dental, said "I, myself, do not have any tattoos and never thought of getting one either. However, if I see people with the tattoos, regardless of the gender, I do not really mind people having those as long as they look cool with them."
He continued, "Some people literally just look down on those who have tattoos,… especially on girls. I mean, they got the tattoos because they want to. And that is for them to decide. Just because girls get tattoos does not mean they all have ruined themselves or they no longer deserve to be thought highly of."
"I believe some people see it as art on the body. And as it is an art on the skin, you would have to endure the pain. Whether you get one with the needle or remove one with the laser… you would get hurt either way," said Moe Moe Aye, a Court Clerk from Northern Yangon District Court. "I have two daughters and never have I ever thought about letting them get tattoos… for both my personal reasons and for the society is also vicious. People are just busy judging one another… the way you dress, the way you talk… and whatever you do."
Nowadays, the culture of tattoos become a favored trend not only among the famous or popular celebrities but also to every standard of human beings. Despite being accepted as culture by many young people, most of the adults still have a hard time to feel the same way. Moreover, in defiance of having various opinions regarding health, the tattoo culture of more-than-thousands-of-years would continue to be a favorable courtesy among youths and to most of the girls. Last but not least, no matter how much of the debate people sit, the culture of tattoo is not the one to be faded away.