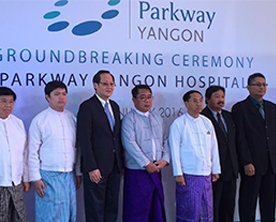 Parkway Pantai, through its wholly owned subsidiary, Parkway Healthcare Indo-China broke ground for $70 million, 250 bed hospital in Yangon. It aims at exchanging of medical knowledge and clinical practices to support Myanmar's Health Vision 2030 and accessing to international healthcare standards for people of Myanmar.
This new hospital, Parkway Yangon, is the first hospital and represents a continuation of its trans-boundary expansion in providing superior clinical care and outcomes in regional markets where the where the demand for healthcare quality is growing.
The project will be developed and operated by a joint venture consortium, Andaman Alliance Healthcare Limited (AAHL), comprising Parkway Healthcare Indo-China with a 52% stake, Singapore-incorporated Macondray Holdings with 10.5%, Myanmar incorporated AMMK Medicare Company with 21.5% and Myanmar incorporated Global Star Company with the remaining 16%.
The hospital is located at downtown Yangon on a 4.3 acres plot of land leased for 50 years at prevailing market rate, with the option of two 10-year extensions. This represents a significant commitment to invest in the local community through a "build-operate-transfer" model. Investment for the project has obtained approval from the Myanmar Investment Commission. Parkway Pantai is the largest operating subsidiary of IHH Healthcare. IHH is the second largest healthcare group in the world by market capitalization and operates a global network of 49 hospitals across 9 countries with close to 10,000 licensed beds, providing the full spectrum of integrated healthcare services from primary to quaternary care as well as imaging, laboratory, rehabilitation services and medical education. Dr Tan See Leng, Managing Director & Chief Executive Officer of IHH and Group Chief Executive Officer and Managing Director of Parkway Pantai said, "This exciting joint venture will bring high-quality healthcare to the people of Myanmar when it opens in 2020. We believe this hospital will greatly support Myanmar's national health policy, Health Vision 2030, which aims to deliver world-class healthcare outcomes, research and services and improve the health of the citizens of Myanmar. Leveraging our more than 40 years' experience in operating premium hospitals across 9 countries, we are committed to working closely with the local Ministry of Health and our business partners to help achieving this noble vision and elevate national healthcare standards."
Aung Moe Kyaw, Director of AMMK Medicare Company said, "I am confident that this hospital project will raise the healthcare standards of Myanmar and benefit our people. It will also boost the Myanmar economy as it will bring about huge investments in infrastructure and technology. Our people will have access to a standard of care comparable to international hospitals in the region without leaving the country". The establishment of Parkway Yangon will be a catalyst for the training of healthcare professionals such as nurses and allied healthcare practitioners. This will create more job opportunities for the community. The integration into the healthcare ecosystem will also stimulate the transfer of knowledge, sharing of best clinical practices and levelling of medical expertise.