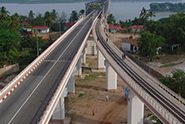 The opening line of the poem "Mandalay" by Rudyard Kipling makes us imagine what Moulmein looked like in Colonial Era. Mawlamyine, formerly also known as Moulmein was once the first capital of British Burma until 1852 after British conquered southern Myanmar's Tanintharyi and western Rahkhine during first Anglo-Burmese War in 1826. Strategically situated between Thanlwin River and Gulf of Mottama, Moulmein played an important part in Myanmar's history throughout Colo- nial period and independence struggle.
Mawlamyine, the capital of Mon State, is the fourth largest city in the country after Yangon, Mandalay and the government based Nay Pyi Taw. A large number of Mon ethnicity makes home to Mawlamyine as well as some Karen people from neighboring Karen State. Most of the locals believe in Therava- da Buddhism and a number of pagodas glit- ter in gold all over the town and also many churches can still be seen around as the Co- lonial traits alongside with the existence of Muslim Mosques and Hindu Temples.
Many visitors make a trip to Mawlamyine which is 315.9km away from the country's commercial city Yangon, to sightsee the historical buildings left from British Colo- ny and the busy local life along the Strand Road and the city's port. This city of Mon State is commercially important for the nation being the center point of goods flow from Thai-Myanmar border in south east- ern part of the country. In addition, the city is the junction of roads lead to surrounding destinations like Hpa'an of Karen State, Myawaddy near Thai border and the fa- mous Golden Triangle respectively. More- over, Mawlamyine is the only entrance to Tanintharyi Region for on-land route which goes down to the southernmost part of the country. Surrounded by Taninthari moun- tain ranges and Andaman Sea, the city be- ing geographical central point is another perspective to pay a visit and explore Myan- mar's hidden wonders.
Getting to Mawlamyine
All you have to do is purchase an express ticket to Mawlamyine at the bus station, get on the coach and then you will be in town in no more than five hours. Or if you aren't on a limited budget, renting a car from Yangon will take you to your destination in comfort. Either airplane, railway or water vehicle is available for transportation though none of them is as popular as the above mentioned ways to Mawlamyine. The city is not unfa- miliar with hosting tourists so you don't need to worry about your stay there: book a hotel or finding a B&B in the city is not diffi- cult when you're there.
On the way, you have to go through Bago Division and the region has its own inter- esting history to offer, once being the capital for Hanthawaddy Kingdom. As getting into the land of Mon State, the weather getting humid and the scenery changes from emer- ald green paddy fields to the continuation of rubber trees as the region grow rubbers, one of country's major exports, commercially. The Golden Rock or Kyaikhteeyoe Pagoda at the mountain top is quite popular among locals during November to February and you can stop by if you could spare an evening.
When you pass through Kyaik Hto, Tha Htone and finally arrive at Mottama then you know that you will be at your destina- tion Mawlamyine in no time which is locat- ed just on the other bank. Prior to the bridge over Thanlwin meets Andaman Sea, people and vehicles had to across the deep wide gulf via ferry. Now people can get one side to an- other in minutes. And the Thanlwin Bridge (Mawlamyine) was the longest bridge in country during its era and later become the second after Irrawaddy River (Pakkoku) near Bagan – Nyaung Oo. By the time you have gone across the river over the bridge then you are welcomed to the largest city in southern Myanmar.
Around Mawlamyine
Once being ruled under British Colony since 1852, the city has left a number of hundred years old buildings scattered all around. One of these colonial influenced buildings is the Mawlamyine prison which has been existed since 1908 and another is the Clock Tower from 1912. There are quite a number of churches situated around the city and among them, one of the very first one is the first Baptist Church from 1827 by Rev- erend Judson who translated the Bible into Myanmar Language and invented English – Myanmar Dictionary.
As many churches can be found around the city as there are many pagodas all around Mawlamyine which is not so strange here in Myanmar with a title of Golden Land. One of the must-visit pagodas is Kyaik Than Lan which oversee the 360 degree vision of the Mawlamyine City, Thanlwin River, Motta- ma Gulf, Shampoo Island and Balu Island. Saying of Balu Island, this quite big island host over 60 villages and if you make a short trip there via boats (having a bridge between the city and island is still underway), you will get a glimpse of Mon people's local life. People on the island make living from their wide paddy fields, gardening and grow- ing rubbers and though there's a road goes around the island, only motor cycles and ve- hicles operated by those are in use normally. Definitely, you will experience exotic ride around the island! If you widen your journey a little bit far from Mawlamyine, you can get to Than Byu Zayat and make a little learning trip to see the Death Railway built by Japanese and played such a part during World War II area, link- ing Thailand and Myanmar through Three Pagodas Pass. It is marked in history that thousands of workers gave their lives con- structing this 415 km long Death Railway.
If you feel like you've absorbed too much in past evidences and want to live the present time, you will like scrolling down the Strand Road, taste local cuisine and the city's famous fresh fruits, gazing around the neighborhood and do people-watching. While you're sitting by an old pagoda in Mawlamyine, your eyes wandering around the river and the sea and remember Kipling's poem then you will find a glimpse of what he was trying to say about this old Moulmein City.