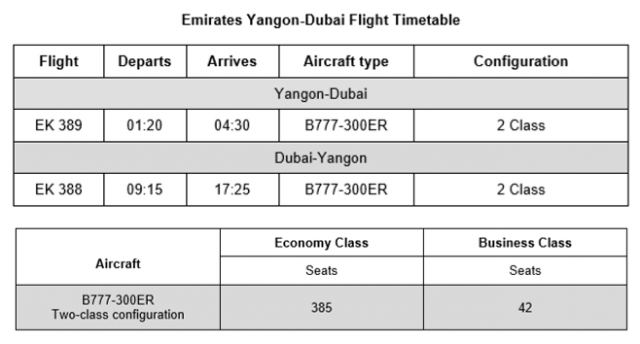 Ahead of Emirates' third anniversary of operations in Myanmar, the airline hosted members of the local media and famous Myanmar travel bloggers on July 3 to discuss the growing tourism industry and the airline's products and services available to Myanmar travelers and Dubai as an increasingly popular destination for global travelers. Mohammed Alwahedi, Commercial Manager, Emirates-Myanmar highlighted Emirates' success and achievements in the Myanmar market and globally as well as its industry leading services and unmatched world-class offerings.
Well-known local travel blogger, Thiha Lu Lin (Thiha, The Traveller), shared his excellent travel experience of traveling in Emirates' Business Class to Dubai, the airline's hub city. Naw Htike Htike Htun, whose blogs on Travel by Naw Htike are followed by a large base of fans, also discussed her travel experience with Emirates' Economy Class, the onboard experience and Dubai as a destination for leisure travellers, whether solo travellers, couples and friends, or families.
Pioneering food and restaurant blogger Khin Myat Myat Naing (My Khayee & Go With Me), shared her experience of visiting well-known tourist attractions in Dubai such as Global Village, Dubai City Tour, Dubai Frame and Flying Cup in addition to the unique and widely popular cuisines in Dubai and the on-board meals provided by Emirates. Kyaw Soe Lwin (I Like That & Food is Everything) who is famous for his vlogs, spoke about his unique experience of traveling to Dubai Miracle Garden, Dubai Mall, Dubai Aquarium and Desert Safari. Emirates has been serving Myanmar since 2016 with flights to Dubai from Yangon being operated by a Boeing 777 aircraft, in two-class configuration. Emirates currently operates non-stop flights from Yangon to Dubai four times a week (Mondays, Tuesdays, Thursdays, and Saturdays) all departing from Yangon International Airport. Through our Dubai hub, Emirates offers passengers travelling from Myanmar convenient connections to an extensive global network in the Middle East, Africa, Europe, North America, and South America, including over 157 destinations in 85 countries. Globally, Emirates employs 148 Myanmar nationals including 31 cabin crew and 13 staff in Myanmar.