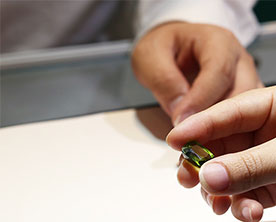 It is a fact that the human eye is more sensitive to colour green than any other colour. Perhaps that is why green is soothing to the eye and it complements every other colour. The beauty of a garden primarily rests on the colour green because it gives a calming effect. The most predominant colour on earth is also green imparting balance and harmony. Out of nine gemstones, which represent nine different colours, the one with colour green is – emerald which is said to be the favourite gemstone of the emperors.
Cleopatra prized her emeralds more than any other gem. She dropped her pearls in her wine for Mark Anthony but she kept her emeralds for herself. The ancient emerald mines of Cleopatra, a long mystery, were discovered again a hundred years ago near the Red Sea. Mummies in ancient Egypt were often buried with an emerald on their necks carved with symbol for verdure to symbolize eternal youth. The Romans also loved emeralds because, as ancient scholar Pliny said, "Nothing greens greener." Pliny said that emerald was the only gem which delighted the eye without fatiguing it. He said his eyes were restored when gazing at an emerald. Emperor Nero wore emerald sunglasses to watch the gladiators. Today emerald together with ruby and sapphire form the 'big three' of coloured stones. The "big three" generate more economic activity than all other colored stones combined. In 2013 the value of emeralds imported into the United States exceeded the value of all colored stones outside of the "big three" combined. Colombia has supplied most of the world's emeralds. Black organic shale and carbonaceous limestone, both sedimentary rocks are the ones for many emerald deposits. The shale is thought to be the source of chromium, and the beryllium is thought to have been delivered by ascending fluids.
For over 5000 years, emeralds have  been one of the most desirable and valuable colored gemstones. In Sanskrit emerald is called 'markat', in Persian 'Zamurrad', in Greek 'Samargdo' and in Latin 'Saralda'. The meaning of the word 'markat' seems to give clues to the origin of this stone. "Mara" means desert and "kata" meaning seacoast. The stone was found in Cleopatra mines close to the sea coast as well as to the desert in the Sikhait region of eastern Egypt. At the end of the 16th century, Spanish conquistadors Cortez and Pizarro brought emeralds into Europe. Columbia became the world source, and Muzo and El Chivor became household names.
Emeralds are also mined in South Africa, in the Northern Trasvaal. Modern mechanized mining is carried out at the Cobra and Somerset mines, but only about 5% of the product is of good quality. Most stones are light in color or heavily included and only suitable for cabochons. Emeralds are rarely mined from alluvial deposits. Emerald is usually a fractured stone that does not have the alluvial durability to persist great distances from its source. Emerald also has a specific gravity of 2.7 to 2.8, which is not significantly different from quartz, feldspar, and other common materials found in stream sediments. It therefore does not concentrate with high-density grains which are segregated in the stream and more easily recovered by placer mining. Ancient civilizations in Africa, Asia, and South America independently discovered emeralds and made them their gemstone of highest esteem. From the 16th century onwards, the emeralds which reached Asia were of Columbian origin. Travelling a trade route on Spanish and Portuguese merchant ships, the Indian penchant for emeralds contributed considerably to financing the transformation of  Spain and Portugal into world powers. The French Gem dealer Jean Baptist Tavernier came to India in 17th century and gave graphic descriptions of the country's diamond mines, but for the emerald he wrote, "I am assured that the East has never produced them, either on the mainland or on the islands; and having made a strict enquiry during all  my journeys, no one has been able to indicate any place in Asia where they are found."
Emeralds were a passion with the emperors. They evoke emotional images of passion, romance, blood, and power. Jaipur, the capital of Rajasthan in India is virtually the capital of the global emerald trade industry due to the business acumen and the foresight of Maharaja Jaisingh who made Jaipur the 'emerald city'. The emeralds travelled across two oceans and three continents to reach Jaipur. When Jaipur was founded, the Maharaja wanted it to be the cultural centre of India and therefore invited jewellers from all parts of the country to settle in Jaipur, giving them huge concessions, grants and bonuses. In the sixteenth century, violence became part of the emerald's history when Spanish conquistadors looted thousands of emeralds from deposits in South America. From that time forward, royalty in numerous countries looked to South America for a supply of beautiful emerald stones to adorn their rings, necklaces, bracelets and crowns. It is said that total weight of emeralds in the imperial treasury of Emperor Jehangir exceeded that of diamonds or rubies. By the year 1660, India was flooded with emeralds and these were sold at a price 20% less than that in France. But the quantity never compromised the quality. Once Emily Eden wrote back home describing a young prince "with eyes as big as saucers and emeralds bigger than his eyes." One Turkish Sultan had 17 emeralds including a stone of 70 carats. It is well known fact that 90% of the world's rubies come from Myanmar. The best known Burmese rubies include an 8-carat ruby that was fashioned into a ring by Van Cleef & Arpels and given as a Christmas gift to Elizabeth Taylor by Richard Burton in 1968, who told her that he had waited for the most perfect ruby in the world. The ring achieved $4.22 million at Christie's in 2011. Elizabeth Taylor was also given a Cartier Burmese ruby and diamond suite by her third husband, Mike Todd, which is worth over $5 million. Another remarkable ruby is the Carmen Lucia Ruby. It weighs 23.1 carats and is one of the largest faceted rubies in the world.