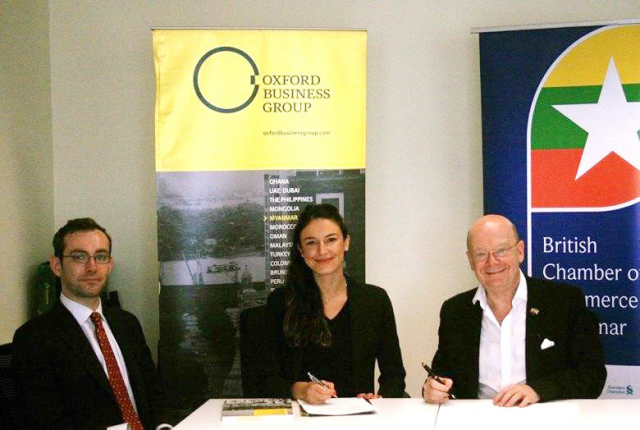 The British Chamber of Commerce (BCC) Myanmar has signed a further memorandum of understanding (MoU) with Oxford Business Group (OBG) for its forthcoming publication. Under the MoU, the chamber's representatives will help OBG to produce The Report: Myanmar 2020. Peter Crowhurst, CEO of the chamber, said he looked forward to teaming up with OBG to update UK business leaders on the steps being taken to facilitate market entry and enhance the local investment climate.
The Report: Myanmar 2020 will look in detail at the country's plans to increase the contribution made by the private sector to the economy and maintain momentum in its liberalization drive. OBG will examine the raft of financial service reforms that have been implemented, while considering what they mean for investors eyeing the country's potential. There will be special coverage of the insurance industry, which is set to be overhauled following the move to allow international players to enter the market. Other topics explored include the significant developments under way in Mandalay, which is fast carving a niche as a strategically important second commercial city.
"Oxford Business Group's research into the economy shines a light on the many opportunities available in Myanmar for those willing to grasp them," CEO of the chamber said. "It will be a pleasure to work with its representatives to increase the prevalence of British business in the country."
Welcoming the chamber's team on board, OBG's Country Director for Myanmar Mila Dimitrova said that while the bulk of investment entering Myanmar was currently coming from the East rather than the West, organisations such as the BCC were playing a key role in helping to redress that balance. "The number of UK businesses establishing a presence in Myanmar is on the rise, with Prudential, which gained its licence to operate in the life insurance segment just weeks ago, it is the latest on a growing list of major industry players," she said. "The British Chamber of Commerce has been instrumental in bringing new investors to Myanmar and helping them to launch their operations there. I'm thrilled that we will be supporting their efforts to provide UK businesses and others further afield with actionable research on this underreported market."
The publication will also contain contributions from leading personalities, including: HE U Thaung Tun, Union Minister for Investment and Foreign Economic Relations and Chairman of Myanmar Investment Commission. It will be produced with the British Chamber of Commerce, the Myanmar Investment Commission and Parami Energy. The report will be available online and in print.