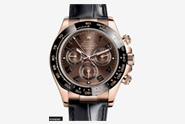 Super rockstar Eric Clapton has always had a passion for music; and the same can be said about his collection of luxury watches.
In 2003, Christie's auctioneers in New York put up for sale 23 of Mr. Clapton's Rolex watches. From the collection, 16 watches were chronographs, which are said to be his favourite watches of all time.
His eye for class and distinction, as well as a shrewd knowledge of the market, saw a stainless steel Rolex Oyster Cosmograph, known as an "Albino" (the four dials are all the same silvery colour) was sold for $50,200. However, had he held on to it, five years later the same watch sold for $505,000, although this might have had something to do with the fact that it was previously owned by the rock god.
Another in the collection, the one that he was wearing when he first played the super hit Layla, is a 1965 stainless steel Rolex Yacht Master, which fetched a whopping $125,000 under the auctioneers hammer (the watch is fine, that's just a phrase).
His penchant for chronographs extends to the Patek Philippe luxury brand. The top seller at the auction was his extremely rare 1950 pink gold chronograph that went for $175,000.
His bug for collecting fine watches has become well known amongst the high society elite and when Christie's in Geneva sold his platinum perpetual calendar chronograph watch with moon phases in 2012, Patek Philippe had already decided to cease production of this model, making it a very rare and very precious collector's item.
Two other watches from this run are now cased in platinum. One is on display at the Patek Philippe Museum, while the other was reportedly sold for an undisclosed sum in a private transaction in 1989. Mr. Clapton then purchased this watch sometime in the late 1990s, again, for an undisclosed amount. The same watch was sold at auction in 2012 for over $3,625M – showing that, as with his music, timing is what it's all about.