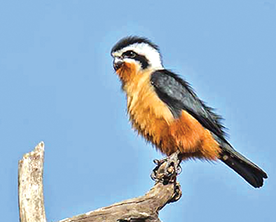 Myanmar may be one of the best countries for birders. Geographically, it stretches from the Chinese border on the north to the Andaman Sea on the south, Thailand and Laos to the east and India and the Indian Ocean to the west. Myanmar is a meeting point of four sub-regions where there are mountains, forests, plains, dry zones, river deltas. This bio-diversity is reflected in the diversity of all organisms, including birds.
There are an estimated 10,000 living species of bird, around one fifth of which occur in Southeast Asia. Over 1000 species of birds are found in Myanmar. Broadly, birds can be divided into passerines and non-passerines. Passerines are the perching birds. They are also known as 'songbirds' and are grouped together in a single order on the basis of the arrangement of toes and leg musculature. Non-passerines comprise birds from 28 other orders. At least seven bird species previously found in Myanmar have been extirpated, and approximately fifty of the country's species are globally threatened. It was estimated that 159 resident and 22 migratory species were endangered or vulnerable due to forest clearance, hunting, illegal logging, and habitat degradation, especially in the lowlands. The species most affected are large water birds whose wetland habitat has been largely lost to agriculture, and forest species, as deforestation for agriculture and logging have removed and degraded portions of the woodlands. The white-eyed River Martin, known only from its single wintering site in Myanmar, is probably extinct.
Despite forest degradation has been taking place with increasing rate all over the world, Myanmar still possesses half of her area covered with forests. According to a study, compared to the neighboring countries or elsewhere, in Myanmar, the rate of forest depletion is kept to the minimal of 0.12%. Wetlands are important natural resources in Myanmar. They are natural heritage of the country and play a vital role in the economy of Myanmar. Principle wetlands of Myanmar are mangroves, swamp forests, lakes and marshes. In Myanmar, coastal and inland mangrove wetlands are of value for nature conservation. Migratory birds are dependent upon these areas and, hence, can be considered as of international importance. Natural lakes in Myanmar are primarily associated with river systems. Following places in Myanmar are very important for bird conservation.
Irrawaddy Delta
The Irrawaddy delta is rich in birds, especially from the end of the rainy season in September-October, when a huge wave of migrants flies south from their breeding sites in Central Asia and Siberia to winter in Myanmar. Many of the waders make their way to the paddy plains, coastal mud flats and tidal creeks of the delta. The delta is also one of the last refuges of the Eastern Sarus Crane. The delta includes two wildlife sanctuaries – one primarily for marine turtles, the other for crocodiles.
Dry Zone
The Dry Zone is usually associated with an area of central Myanmar. The bird fauna is diverse and the long hot evenings of March and April are punctuated by the call of the Indian nightjar, whilst the rippling sound of the Burmese barred owlet can be heard at dawn. The skies are patrolled by some of the 63 bird of prey species known from Myanmar, including the White-eyed buzzard eagle and White-backed vulture.
Coastal Areas
Myanmar has two principal coastal areas – the narrow strip of Rakhine (Arakan) in the west, with its forested hills behind and Tanintharyi (Tennasserim) in the south. Both are extremely beautiful but little explored. Southern Rakhine, with its exquisite coastline of rocky headlands, long empty beaches and clear blue sea is most accessible. Much, but not all of Tanintharyi was out of bounds because of the security situation. However, it was formerly described by a British naturalist (A.O. Hume) as a province of the most varied physical configuration. It's a province teeming almost without parallel with wild fruit and flowers and insect life, and with birds worthy of this glorious profusion and this marvellous diversity of physical surroundings.
Chin Hills
The Chin Hills, with their cool climate and rich bird fauna of some 200 species the Chin Hills are an excellent place to go bird watching. The pinewoods are home to a variety of colourful flycatchers as well as the Orange flanked bush robin, Chestnut-vented nuthatch and Fire-tailed sunbird. Black eagles patrol the skies. Rare and endemic birds on Mount Victoria include the Spotted wren-babbler, Brown capped Laughingthrush, Black-breasted Parrotbill, Yellow-breasted greenfinch and Myanmar`s most famous endemic, the White-browed nuthatch.
Shan Plateau
The Shan Plateau is comprised of a vast and complex series of rounded hills and plateaux, interspersed with many dried up depressions of former lakes. It has an average elevation of 950 metres and many spectacular gorges, such as that at Gokteik, and extensive cave systems. The western margin is famous for its hill stations, which offer in summer an opportunity to escape the stifling heat of the plains. These include Pyin Oo Lwin (Maymyo) and Kalaw. Pyin Oo Lwin was known to have a particularly diverse bird fauna in its oak and chestnut copses, although the current situation is unclear. One of the best areas to see birds is Inle Lake, especially in the winter season when it is home to a large number of migrants.
Teak Forests
Teak Forests are Myanmar`s deciduous forests are home to the majority of the world`s teak reserves. These occur predominantly in a wide arc, sandwiched between the central Dry Zone and the mountains of the Rakhine Yoma, Chin Hills and the hills of Sagaing Division and Kachin in the north. One of the best places to see natural teak forest is Alaungdaw Kathapa National Park, which is situated some 180 km west-north-west of Mandalay. It is an area rich in wildlife and was recently described as a magically still, yet intensively alive Eden. To date, eighty bird species have been recorded from Alaungdaw including crested Serpent eagle, Shikra, Great hornbill, Kalij pheasant, Green imperial pigeon and Black-headed woodpecker – one of 40 species of woodpecker known from Myanmar.
The North
Although relatively little visited, the North is an area of outstanding natural beauty. Over 470 bird species were recorded in the 1930s from Myitkyina district alone and charismatic birds include Eastern White and Spotbilled pelican, White-winged duck, Asian paradise flycatcher, Mountain Imperial Pigeon and a number of rare and beautiful pheasants. . The forests have an outstanding bird, butterfly and orchid diversity.
Yangon (the Capital) In and around Yangon – the best and most accessible site is Moyungyi wetland bird sanctuary. One hundred and twenty kilometers north of Yangon, it is well worth a visit. Bird species include the Spot-billed pelican, the Collared Falconet and many winter migrants.