Interview with Maria Bernadette Abril
Principal of Kinderhouse
Can you please introduce yourself and Kinderhouse to our readers?
I am Maria Bernadette Abril from the Philippines. I have more than 30 years of experience working in international schools in emerging markets such as Myanmar. Working with preschool children will always be my passion.
Kinderhouse International Preschool is located in Golden City Condominium, Yankin Township, and was opened in August 2019. Kinderhouse offers childcare service and preschool education to children one to six years old. It aims to give quality preschool learning experience to children in a safe and caring environment equipped with modern facilities.
When was your first time in Myanmar, and how has it changed since then?
I came to Yangon with my family in 2010. Yangon was so quiet then, with only a few old cars on the street, one or two shopping malls and cinemas and a few international schools. Today, it has made a 360-degree turn since Myanmar opened its doors to the international community. Development in various industries has gone so fast. There are more options for people for entertainment, transportation service, retail and supermarkets, dining out in restaurants serving international cuisine, more bookstores opened and international schools mushroomed everywhere.
How has Myanmar's education system changed during your time here?
I will only speak about preschool education, as this is my area of experience.
Ten years ago, once a child goes to school, it is expected that the child will learn how to read and write. The curriculum was rigid and was more concerned about teaching concepts. Teachers did not get enough training in the field of early childhood education. Today, things have changed. The government now recognizes the need to train teachers in early childhood education and development. Attending the ECCD course and be certified as an early childhood practitioner conducted by the Department of Social Welfare is now a requirement for anyone who wants to put up a preschool. The ECCD curriculum has evolved into a more relevant curriculum to answer the needs of the preschool child. that is, learning through play.
How did you become the principal of this school?
The investors of Kinderhouse International Preschool invited me to be the founding Principal of their school.
What would be your top priorities as a principal?
What do we want to achieve when parents enroll their children in Kinderhouse? We want to hone the child's potentials to its fullest by providing the best facilities and resources that would help them develop skills, and a curriculum relevant to their needs.
We hope that, at the end of the children's preschool life with Kinderhouse, they become confident about themselves, independent to be able to take care of their personal needs, and most importantly, they are happy and enjoy going to school every day.
What is your students' profile?
We have 27 children, 8 nationalities coming from Asia, US and Europe.
How would you differentiate Kinderhouse from other competitors?
"Your Child is in Caring Hands." It is our commitment to our families. We try our best to make Kinderhouse feel like home, giving the same care and love as their parents.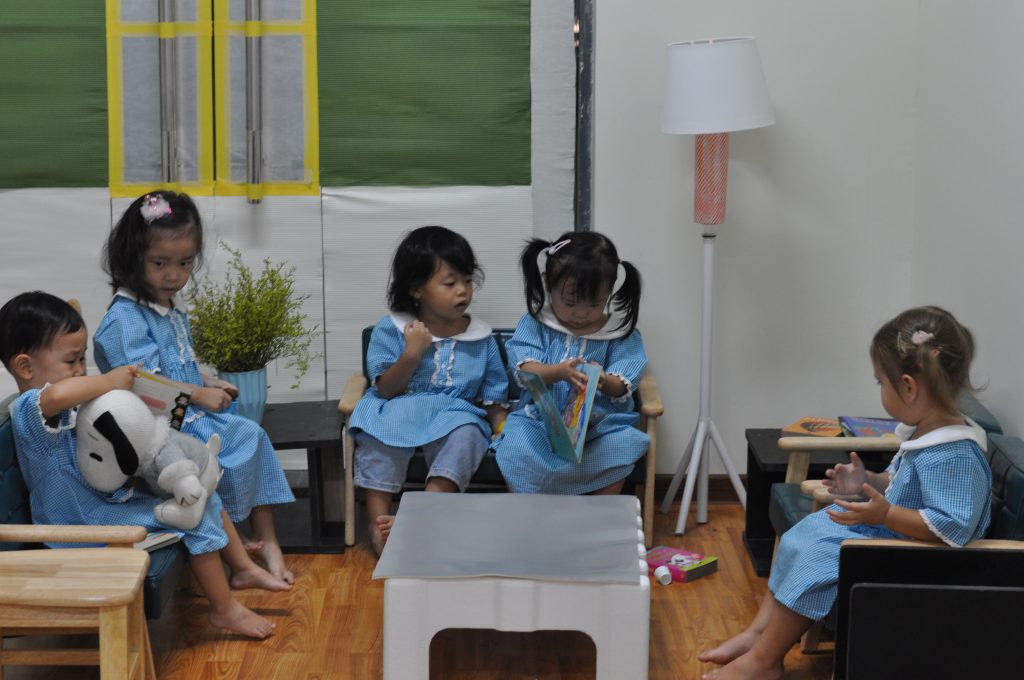 How would you measure the success of the school?
Increase in Enrolment
Positive feedback from satisfied parents
Current parents recommend Kinderhouse to their friends
Children are excited to go to school everyday and would not want to leave school at dismissal time.
For Kinderhouse, what are your success stories so far?
How would you increase the school's involvement with the community?
We will be organizing events that would support our community service projects like building the library collection of local preschools in Yankin Township. Networking with local preschools is also part of our community involvement plan.
In December 2019, we'll be having our Family Fun Fair to kickstart our first charity project. Proceeds of the Family Fun Fair will go to our project, Books4U. We believe that love for reading should be developed at an early age. Reading helps children to develop language and communication skills. With this project, we would help a local preschool build its library books collection.
If you could suggest a change to government policy, what might it be?
I would rather not get into government policies.