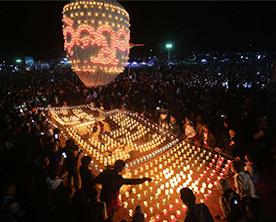 Started by the Shan State capital of Taunggyi, the annual Fire Balloon festival is quite the event, drawing hordes of people from the surrounding areas and a trickle of foreign travellers. This is not a sleepy meditative religious event, but
more akin to an international music festival with tens of thousands of people enjoy- ing a carnival-like atmosphere. It is not for the light-hearted as accidents can and do happen, nor is it for the crowd averse, but if you'd like to experience a true festival Burma-style, this is a good starting point.
This year, the Taunggyi Fire Balloon Festival will run from November 11 to 17, with daytime parades and evening ballooning and pyrotechnic displays. The final night (17th) coincideds with the full moon and will have a new balloon being sent aloft roughly every 45 minutes from the commencement of events.
Like a number of other festivals across Southeast Asia, there is little in the way of crowd control — well, there's just about none, and one should be wary of getting in a position where you're going to be stampeded, have a balloon collapse back onto you, or be set on fire by explosives, pyrotechnics or dropping candles.
There is actually a "sensible stand" built on site for foreigners, well away from the zone, but there were not too many foreigners — perhaps a dozen or so — right in as close as we could get, which was very, very close.
The balloons are prepared one at a time. A large truck backs into the crowd and off- loads first a series of large lattices containing hundreds of three-inch-wide candle holders, covered in different shades of translucent plastic.
Getting there
While there is accommodation in Taunggyi itself, unless you're planning on attending the festival for multiple days, you're better off basing yourself in Nyaung Shwe, about 1.5 hours away by road. Most guesthouses can arrange transport, be it a rented car, van or a tuk tuk, depending on your budget and the number of people.
Dress warmly, with at least long pants and sleeves, and a hat isn't a bad idea. The bal- loon launching area can get very muddy, so wearing decent footwear is also wise. There is plenty of food and loads of booze for sale on-site.