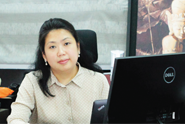 Name : Daw Win Win Tint
Company : City Mart Holding Co. Ltd (CMHL)
Job title : Founder, Managing Director ,Chairman of the Myanmar Retailers Association
At the age of 21, Daw Win Win Tint started managing City Mart, a newly founded retail family business venture in Myanmar. De- spite facing difficult economic and political conditions, she has brought City Mart from a single super market outlet to a leader in modern retail in Myanmar. City Mart hold- ings now operate multiple retail formats such as supermarket, hypermarket, conve- nience stores, health & beauty stores, Bakery & Cafes and specialty stores in key cities of the country.
Apart from her role at City Mart holdings Co., Ltd. (CMHL), Daw Win Win Tint also founded Pahtama Group, the leading and fastest growing distributor for consumer products in Myanmar. It is currently the ex- clusive distributor for many multi-national companies such as P&G, Cerebos, Abbott Laboratories, Kelloggs and many others in
Myanmar. Pahtama Group's wide and reli- able distribution network enables it to deliv- er quality products nationwide and improve the living standards of the Myanmar people.
She is currently servicing as the President of Myanmar retailer association and she was nominated as a young Global leader by world economic forum in 2013. Recently CMHL has been awarded as most admired Asean Company by Asean Business Council in Women Leadership Category.
MI : How did you get the idea to open the first Supermarket in Myanmar?
I saw that living standards were changing af- ter 1992, when open economic system start- ed and new business enterprises sprang up.
That's why, I established my first supermar- ket in 1996 to introduce a shopping way in Supermarket that will become an essential thing for everyone.
MI : What difficulties do you face as a women business leader?
In economic fields, there are only few women business leaders. So, I tried with self-confidence when communicating with other stakeholders. I prove it by results and with time to achieve my aims and targets. And also I have seen many businessmen who discriminate female leaders.
MI : What are your core value in business?
Our core values are customer focus, strive for excellence, team work, integrity and peo- ple development.
MI : How did you become Chairman of Myanmar Retailers Association and when?
Until 2012, there is no association to rep- resent Myanmar's Retail Sector which is a biggest part to advance a country's econom- ic sector. Then, fourteen businessmen who were working retail enterprises decided to create a Myanmar Retailers Association in October 2012. I was elected by these found- ing members and became Chairman of the Association.
MI : Could you explain about Myanmar Retailers Association (MRA) and what can you do for Myanmar retail- ers as Chairman of MRA?
MRA functions by three processes, namely Advocacy, Education and Innovation to im- prove retail sector. We welcome any retail- er who holds business license as a member and there are 250 members at present time covering the whole country. Within the year 2014, the association carried out a lot of ac- tivities.
MI : Please explain your position on the foreign retailers entering local market.
At present, Myanmar businessmen are fac- ing difficulties in getting financing and in- terest rates are also high. Therefore, there is no level playing field between foreign and domestic retailers. So, we have received votes of the members to allow foreign re- tailers with limitation in 2016. Then, I have submitted this position to Myanmar Invest- ment Committee about that.
MI : How do you feel that foreign companies now entering into busi- ness here will affect the local work- force, and do you feel that they will bring new opportunities to new busi- nesses?
As foreign investment is increased in pro- duction side of consumer goods sector, I see the development in retail sector's supply chain. Besides, the more cooperation with retailers there is, the more opportunities will arise.
MI : From a business standpoint, what do you feel are the biggest chal- lenges facing you and your company in Myanmar in the next 1-3 years?
Currently, the costs of purchasing and rent- ing accommodations and general expenses are increasing and as the businessmen, they not only to manage their bottom line but also have to be more competitive. As foreign investments enter into Myanmar, as for me, more branches need to be opened to expand market share quickly. It is also necessary to manage the costs depending on the coun- try's economic development and customers' consumption and to sustain our business.
MI : How would you like to compare Myanmar with its ASEAN neighbors in the challenges they face in the both short-term and long-term?
Myanmar is lagging behind most of the other ASEAN countries in infrastructure, economic sector and income growth. Ad- ditionally, the country's human capacity is lower due to many reasons and it is the biggest challenge we are facing. Therefore, Myanmar has to make speedy effort in time to prepare for competition.
MI : If you could make one major change in the country for any of your business ventures, what would it be?
Our country has a lot of sectors that need reforms. From my point of view, human
capacity building sector is the first priority among them. Consider not only for youths but also for middle-aged people who have never been taught under good education system to upgrade them through vocational trainings and language trainings and also education through media. Also, the whole country should join reforms with positive attitude and be active. These are very im- portant foundation for the country.
MI : What advice would you give to someone looking to start a business and invest in Myanmar?
One should study a market thoroughly and it takes time. It is also important to meet all the stakeholders in your market and consider all the information gained before making an investment decision.
MI : What are critical factors to be successful in retail business?
To be successful in retail business, you have
to know your customers and their require- ments. Then, you must have an overview of the whole market. If you have all these infor- mation, you will have no difficulty in making most important decisions such as choosing the location of your shop, which products to sell, the price of the products, and how to make promotions, etc.
MI : How do you manage to separate business and personal life?
I set a clear mind when I wake up and also before going to bed. I set my mind on busi- ness matters at work but when I get home, family is my priority.