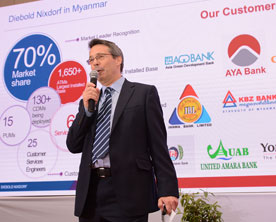 Brief Bio: Piers Leach joined Diebold Nixdorf in 2014. He was previously based in Kuala Lumpur, Malaysia, where he was responsible for key regional petroleum customers Shell and Total. Before Diebold Nixdorf, Piers spent more than 15 years with the French multi-national TOTAL S.A. in various roles and locations, including the UK, the USA and finally seven years in The People's Republic of China, setting up two joint ventures based in Shanghai and Beijing, and thereafter running the company operations.
[paypal]
When was your first visit to Myanmar and what were your first impressions at the time?
My first visit to Myanmar was in April, 2016. I was stunned by the potential for growth in the country and the appetite of local companies to become leaders in the ASEAN region with the latest trends in technology.
Please tell our readers about Diebold Nixdorf. Diebold Nixdorf is a world leader in enabling connected commerce for millions of consumers each day across the financial and retail industries. Our software-defined solutions bridge the physical and digital worlds of cash and consumer transactions conveniently, securely and efficiently. As an innovation partner for nearly all of the world's top 100 financial institutions and a majority of the top 25 global retailers, Diebold Nixdorf delivers unparalleled services and technology that are essential to evolve in an 'always on' and changing consumer landscape. Diebold Nixdorf has a presence in more than 130 countries with approximately 25,000 employees worldwide. The organisation maintains corporate offices in North Canton, Ohio, USA and Paderborn, Germany.
What inspired Diebold Nixdorf to open an office in Myanmar?
Myanmar is the second largest country by area and fifth largest country by population in the ASEAN region and is one of the largest growing economies in the world today. The country is undergoing a significant economic transformation with huge investments in telecoms, oil and gas, construction and manufacturing.
Riding on this economic growth, banks and retailers are preparing themselves to expand their reach and improve their consumer experience. Being the industry leader in both the banking and retail segments, Diebold Nixdorf sought to be closer to its Myanmar customers by having a direct presence in the country to help its customer in the development of these financial and retail services.
How did you end up in your current position at Diebold Nixdorf?
Diebold and Wincor Nixdorf have been operating in Myanmar through their business partners for many years with a leadership market position. Following the business combination, Diebold Nixdorf has set up its 100 per cent owned subsidiary company in Myanmar, and since January, 2017 has been fully operational, delivering services to local customers. Before coming to Myanmar, I was in Malaysia managing key regional petroleum customers Shell and Total. I'm glad to be have the opportunity be here in Myanmar to support our local customers and grow the business in this very exciting market.
Diebold Nixdorf is in a number of other countries as well. What are the differences between working in Myanmar and other countries?
Myanmar is one of the largest growing economies in the world today but it has one of the lowest rates of ATMs in the ASEAN region. Local banks are now improving customer experience by expanding into more remote areas with the latest equipment and technologies and they have the opportunity to leapfrog their neighbours and become regional leaders with the latest trends and technologies.
What kinds of services does Diebold Nixdorf provide for local and international Companies?
Diebold Nixdorf are providing a wide range of banking and retail solutions to its customers in Myanmar. Key banking solutions include cash dispensers, cash recyclers, passbook update kiosks and cheque deposit terminals. Teller automation solutions are also being piloted in strategic customer networks.
Retail solutions include point-of-sale (POS) terminals with omni-channel software to provide an end-to-end life cycle management of a retail store. Most of the banks that have self-service ATM networks are Diebold Nixdorf customers; and for CB bank we are providing the service and support to ensure the maximum uptime of the machines.
Who are the major partners of Diebold Nixdorf in Myanmar?
Diebold Nixdorf works with four main local partners in the country – Myanmar Golden Rock, Skylark Company Limited, ACE Data Systems and Kaytumadi iSolutions.
What is the target market segment for Diebold Nixdorf?
Diebold Nixdorf offers a full range of banking and retail solutions segmented in three lines of businesses- Hardware, Software and Services. We are providing banking solutions including cash dispensers, cash recyclers, passbook update kiosks, cheque deposit terminals and teller automation solutions. Retail solutions include point-of-sale (POS) terminals with omni-channel capability.
Who are your major competitors and what are your competitive strategies in Myanmar?
We compete with both global competitors as well as local Asian competitors in Myanmar. However, Diebold Nixdorf is the only company that operates directly in Myanmar and works closely with customers in help achieving their strategic business goals.
What is your view on the banking sector in Myanmar?
The banking sector has taken a number of steps towards technology driven banking services, with major banks making a lot of investments in its core banking software, cards and payment services as well as expanding the self-service banking networks.
What are your future expansion plans?
Strategic research and consulting firm RBR has predicted that the Myanmar ATM business would grow by approximately 21 per cent by 2021. Diebold Nixdorf aims to support the banks in this growth. On the retail side, we are talking with a number of retailers who are either already established in Myanmar or looking to enter the market.
From a business standpoint, what do you feel are the biggest challenges facing you and your team over the next 1-3 years?
We see great potential in Myanmar and the country could leapfrog its neighbours in advancement of technology. Challenges such as those related to telecommunications infrastructure are being addressed. We have seen significant improvements on this front and other areas in the last few years.
[/paypal]