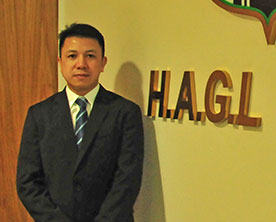 Name : Cao Duy Thinh
Position : Managing Director of Hoang Anh Gia Lai Myanmar (HAGL)
[paypal]
When was your first visit to Myanmar?
My first visit was in early 2010 before the election. During the year 2010 – 2012, I went back and forth between Vietnam and Myanmar to proceed the legal procedure to get the official Permit from Myanmar Investment Commission (MIC), for HAGL.
What was your first impression of the country and how has your impression changed since your first arrival?
Myanmar has potential for foreign investment. Our group has made huge investment in some countries like Laos, Cambodia and Thailand. Early 2010, we made decision to come to Myanmar to make investment survey and get the best understanding on the market. We were very impressive with the potential conditions for development and the geographical location is not quite far from Vietnam. We paid highest consideration and submitted the official proposal to lease the land to the Government for developing Myanmar Centre project after our first visit to Myanmar. After the first election, we also found out that Myanmar economy has significantly changed. Many things has been improved quickly and seems to be different, especially in Yangon when we come back just after one month.
How did you end up as the Managing Director of Hoang Anh Gia Lai Myanmar ?
I have been working for HAGL group since 2002. I was in charge of foreign investment division and managed one property project in Thailand for more than four years. I was also involved in some investment activities in Laos where our group mainly focus on agricultural development. The Group appointed me as Managing Director here when MIC granted the official Permit for the project.
How did HAGL secure the land for investment in first place?
As I mentioned earlier, we submitted the first proposal to the Government on the occasion of two governments of Myanmar and Vietnam signed the joint declaration for some cooperation sectors in April 2010. We followed up with further proposals to go to the final BOT contract which was signed in Dec 2012. This land was formerly Ministry of Industry 1's premises. At the time of our first proposal, the Government assigned Department of Housing Development and Human Settlement in Yangon under Ministry of Construction to supervise the lease. After that, the government relaxed rules, regulations and transferred the lease to YCDC. Finally, Ministry of Hotels and Tourism was approved as the final partner to sign the BOT contract with us.
Where did the funding come from for the project?
HAGL had many experience to arrange funding for Vietnam as well as oversea projects. HAGL has good relation with many strong financial organizations. And the financing for Myanmar Centre project is come from HAGL and Vietnam banks.
Please explain to our reader about HAGL group.
HAGL group is one of the biggest private group in Vietnam. Our core businesses are Agriculture and Property development. For Agriculture sector, we have made investment operations in Vietnam, Laos and Cambodia. We are so proud of the biggest company in the world with more than 51,000 hectares of rubber plantations. For property, we have developed many condominiums, hotels and office buildings in South Vietnam and mainly in Ho Chi Minh City.
HAGL group was founded in 1993 and started from the furniture manufacturing industry. We imported timber from some countries, then manufactured furniture for local market as well as exporting to many countries in the world like USA, Europe, Australia and New Zealand.
What sort of difficulties HAGL faced while working for the first time in the country?
When we first started the project in Myanmar, human resource was the biggest challenge for us. It was difficult to find skilled labor for development project at that time. Secondly, Myanmar could not provide the good quality and enough quantity of construction materials. We must import construction materials, machinery and equipment from Vietnam and other countries. With 06 year construction timeline, if we do not have proper resources, how can we do? At that time, no local contractor had sufficient conditions and experiences to settle and manage construction works at highrise buildings for us. Thirdly, the rule and regulation as well as law on construction were not clear then. We must do many presentations and explanations on technical designs or solutions to develop the high rise building. But we highly appreciated Myanmar Government's kind supports to ensure our construction works to be run smoothly and timely.
Fourthly, infrastructure and utilities is still under developed and there is insufficient supply of electricity, water, etc. It was really not simple. We must submit all compulsory applications to apply YCDC's road permit to transport imported goods from port to the project. Any delay in the procedure causes bad impact on our construction progress. To ensure water and electricity demands for the project, we were required to invest water pipeline as well as electric sub-station to connect with the city system at our accounts. It was quite challenging and for us our investment cost which was not included at the beginning.
We understood the construction conditions in Myanmar and we worked very hard towards the project completion responsibly. With the experienced construction management team from Vietnam and non-stop working spirit as well as strong supports from the Government, we completed Phase 1 earlier than the period we had committed.
Do you have plans for the investments in Myanmar, apart from HAGL?
Currently, we are still working on phase 2 of this project. For phase 2, we have residential, serviced apartments and more office buildings, more shopping mall. As I mentioned, Myanmar has very good potential for development of different business sectors. We will complete our Phase 2 in time as we committed in the BOT Contract and we are thinking new investment related to agriculture. When everything is clearer, we will do announcement publicly.
What is your current occupancy rate like?
Nearly 100 percent in our shopping mall. Myanmar Plaza is the destination of entertainment, shopping and relaxing of local people with different and well know brand names. For the office building, more than 60 percent occupied and signed by international firms and local companies like Ooredoo, Mitsui, Huawei, BIDV, Shinhan Bank, Thai Airways, Emirates, AYA, KBZ, Yoma, CB Bank… And our Melia Hotel just opened early August, 2016 but has become one of the best in town for accommodation, F&B service, meetings, events.
What is your view on upcoming condo law?
Cleary, the law will create good liquidity in the market and have positive impact on foreign investment. 40 percent of condo units in a project which is allowed to sell for foreigners will fulfill high accommodation demand while the suppy is limited. Similar to Vietnam and some countries, foreigner cannot purchase or own the land but they can lease the land in the long term for project development. For residential development on the BOT land, it should be considered and accepted to do long term lease for foreigners. The developer will take back to do hand over for the Government after the lease term is ended.
If you could make one major change to any government policy, what would it be?
For emerging market like Myanmar after the Government opened up the economy, the policy and legal frame are very important. Many good reforms policies had been approved and caused positive influence in the development but the investor expect more updat – ed laws and rules when Myanmar has started its integration into the world. In addition, infrastructure and utili – ties related to electricity are required to meet the development demand for local and foreign enterprises.
How are you enjoying your life here in Myanmar?
So far, so good. Myanmar is changing day by day with better living condi – tions. And Yangon is not quite far from other cities in Southeast Asia region, we can go to Ho Chi Minh, Hanoi, Bangkok, Singapore easily and conve – niently. I am enjoying the green envi – ronment here.[/paypal]