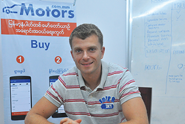 Name : Stefan Haubold
Nationality : German
Position : The co-founder and global managing director
[paypal]MI : When was your first visit to Myanmar and how has your first impression?
This is my first trip to Myanmar and this is my first time here. I am staying a couple of days. Myanmar for me is still econometric, very early in civil development and at the same time it is picking up rapidly, catching up with other countries. So much opportunies in Myanmar has been locked up for quite some time and now the market is opening. The market is full of potential .
MI : How did you end up as the co-founder and global managing director of Carmudi?
It is a long story. I was used to be a consultant, a management consultant in Roland Berger and I was working for Berger for about six years and then I decided to leave Bloomberg to start my own business. I founded the ePet world and it was quite successful. And then I bought cars and it is the interesting product. Selling cars is more interesting than just selling cat food and dog food. And that's why and now I am here in Myanmar.
MI : What are your roles and responsibilities?
We have local teams in all our countries. There is a local management director in every country in our team. Previously, I was in Vietnam and Philippines before I came to Myanmar. I am going around countries to give guidance, what direction we should go, what knowledge we have to share, what have been learned from phillipine and could also be applied in Myanmar, what we learned from Myanmar can be applied in Indonesia or Thailand. My role here is someone who gives a globally guidance to local guys. Actually, the show is done on the ground here, in Myanmar. I am an advisor.
MI : When did Carmudi start its business in Myanmar?
We had our first market here in Myanmar, motors.com.mm. We started business and saw that there is no such business as mo- tors available that people can actually buy and sell cars online, or find a variety of cars online. There was no such thing here before we started. So, we decided to start here in Myanmar and we were quite successful so we decided to expand to other countries. Carmudi was actually born in Myanmar, the first country that we set up our business. MI : Why did you decide to set up in Myanmar?
We saw the market and a lot of the market was opening up, really young market and a lot of potential still think that online penetration is still quite low. It is, however, a huge market with 50 millions, still was untouched that time. So, we decided to test this. At first it was very early, very young, a bit difficult as there is not very much on- line surfing at the time when we started in 2013. We rather chose, at last, online selling market to start an extensive business before we work out to other market. We think that what works in Myanmar would also work in other countries.
MI : How and when did Carmudi establish its online car market in Myanmar?
In 2013. Two years ago.
MI : What is your current market statistics like and what is your future expectation for Myanmar?
We are the number-one in the market and we have the most cars online. After two years, we are very strong by the market mo- tors.com.mm. Our aim is to grow with the market and provide the people of Myanmar the good assortment of cars. We are sure all the cars in motors.com.mm are available in Myanmar, in one place. To the other side, we are selling more comfortably and easily. We have achieved quite some progress in the market already.
MI : How different are the customer's expectations here in Myanmar com- pare to other countries?
Everyone is using facebook. People in US are using facebook, people in Germany are using facebook, and people in Myanmar are using facebook. I would say everyone has a similar base of using online resources. It is just at what stage we are in development. Some markets should start earlier in Myanmar and it is a matter of infrastructure, missing an infrastructure gives people cheap access to online space. Now with Ooredoo and Telenor, the market seems very promising. People also need to change their habits the way they buy and sell cars. In general, I see that there is always a need for local knowledge we need for operating. In the end, this is a developing market in which 99.95 percent of people go online to cheek the car market first, before they choose, what the price is, compare various cars before they make their decision.
MI : Who are your competitors and what are your competitive strategies?
There is no competitors in the market. At the moment, we need professionaly dedicat- ed people and try to bring out the best ex- perience. What is important is, you can get all the cars in one site so that you don't need to go from one site to another. We are more focused on rapid market expension. Not all the people use online resources, therefore, we need to grab those guys to use internet. We see no competitors entering the market and no such pressure from a competitive side, I mean, competitive strategy is always for us. To be a clear number one, all the cars that are available in the Myanmar market are in one site and you can make a choice. You don't have to go to different places and just surf the motors.com.mm we are sure you see every car currently available in Myanmar. That is my competitive strategy. MI : What are the differences between Carmudi in Myanmar and Carmudi in other countries?
Carmudi Myanmar and Carmudi in other countries are not so different. Again people have the same habits selling and buying cars at some points and in Myanmar there are some local specific progress to sell a car or buy a car. We need someone trustworthy who can actually guide that and I think we can also have a good job by having them in that situations. In all the countries cars are playing a major role and it is quite expen- sive. We do not want to make a false decision and when other side is not so transparent. We make the way easier and better for you.
MI : From a business standpoint, what are the major challenges facing you and your team in Myanmar in next 1-3 years?
We met challenges and one is to keep coming back to the infrastructure. There should be a great Internet connection that people can actually use. Focus on this will be all really great.
MI : What do you think of the sudden influx of foreign companies into Myanmar?
I think it is all said that there are advantages and disadvantages. I think it is good to give outside in the knowledge in the country to catch up all the other countries. It is always the risk to just looking at cars but you need to provide the infrastructure. We are growing too fast in anything and is not very healthy for the country. For the economy we need to have a moderate way even though there is a lot of energy in a lot of ambitious Myanmar people.
MI : If you could change one major government policy, what would it be? It is hard for me and I am not a Burmese to discuss this thing. My apologies.
MI : What advice would you like to give to someone who is looking up to start up a business and invest in Myanmar?
I would say it is a great country and the only advice I want to give is find the right people and good team. I think you can find them very well in Myanmar.[/paypal]